Issue #1021 May 17, 2016
Publisher: Joan Stewart
"Tips, Tricks and Tools for Free Publicity"
In This Issue
Your Publicity Photo Props
How to Build a Media Kit 
More Room to Tweet
Hound Video of the Week
This Week in the Hound House:



Show me twins and I'll show you at least one sick baby. My great-niece, Lilly (right), came down with a double ear infection when I visited Ohio over the weekend. This was one of the few moments on Sunday, just as they were packing to leave, when she wasn't crying. Best part of the trip: holding Alena in front of a mirror and watching her laugh at her reflection. Second best part: Escaping diaper duty.
1. Your Publicity Photo Props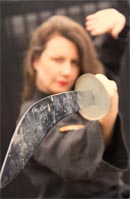 Dogs. Cats. Cars. Jewelry. Pianos. Swords.
And my favorite: Goliath, a 10-foot coat of armor.
Publicity Hounds are using them all as props in their publicity photos.
When I put out the call a few weeks ago for photos using props, I was surprised at how few samples I received. That tells me most people aren't using props, perhaps because they can't think of an idea that would tie into their job or hobby.
I chose the best ones and included them in a post at my blog.
Important: Have a professional photographer shoot your photos. Some that I received had bad lighting, poor composition, or were out of focus. A photographer can always make your photos look a hundred times better than your DIY versions.
To do: Read "Publicity Photos in a Media Kit Come Alive if You Use Props." If you can't think of a prop for your own photos, tell us in the Comments section what you do, or what your book is about. I'll offer my best ideas, and other Publicity Hounds will, too.
2. How to Build a Media Kit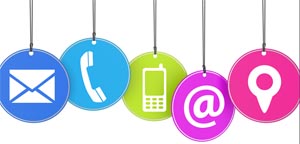 Trying to promote a book without a media kit is like trying to row a boat with only one oar.
To encourage journalists, reviewers, readers, meeting planners and others to promote you, you practically have to hand them everything they need on a silver platter.
Join me and Joel Friedlander at 6 p.m. Eastern on Thursday, May 19, when we present a free webinar on "The Indie Author's Guide to Creating a Killer Media Kit." I'll walk you, step by step, through every item in the ideal author media kit, and show you how to shave weeks off the time it will take to create yours. If you're thinking of writing a book, you're already writing it, or trying to pump up sales for a book that's been languishing, this free training is for you.
Don't make the mistake of waiting until you launch your book to think about your media materials. You'll have too many other tasks that will rob you from the time you need to do it right.
To do: Register for the call. Come with questions.
3. More Room to Tweet

You soon may be able to use up to two dozen more characters when you tweet.
A report today on Bloomberg ways Twitter will stop counting photos and links in the 140-character limit for tweets.
I like this idea. Hashtags, links and tags take up so much real estate that the actual message is often indecipherable.
To do: Read more about how this will affect your Twitter account
4. Hound Video of the Week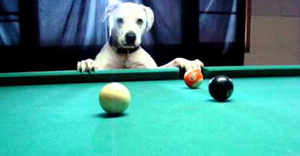 Thanks to BL Ochman of Pawfun.com for this one of Halo, the pool-playing dog. He could beat me!