Even though my job is devoted to teaching people how to generate their own publicity, two frequent questions I hear are, "How do I know if I need a publicist?" and  "Where do I find a good one?"
Stars like Audrey Hepburn had their pick of the crop and could afford the best. But most other people don't. 
I am not a publicist. But after working 22 years at newspapers and almost two decades as a publicity expert, I know the types of pesky publicists that people detest:
They're pushy and obnoxious.
They don't take "no" for answer.
They're clueless that the story they're pitching isn't a good match with the media outlet or blogger they're contacting.
They write multi-page, rambling press releases, and they bury the gist of the story in the sixth paragraph.
They follow up every press release with an annoying phone call to ask, "Did you get my release?" and "Do you know if you will use it?" And they charge you for doing.
They have that sickening phony sound to their voices. Journalists who hear it know, within seconds, that they should brace themselves for a sales pitch.
They sometimes sound downright desperate, as though they've spent the entire morning getting rejected.
They offer boring, lifeless or off-target story ideas.
They promise you—and those whom they're pitching—more than they can deliver.
These pesky publicists will waste your money. They could also damage your reputation.
The Types of Great Publicists the Media Love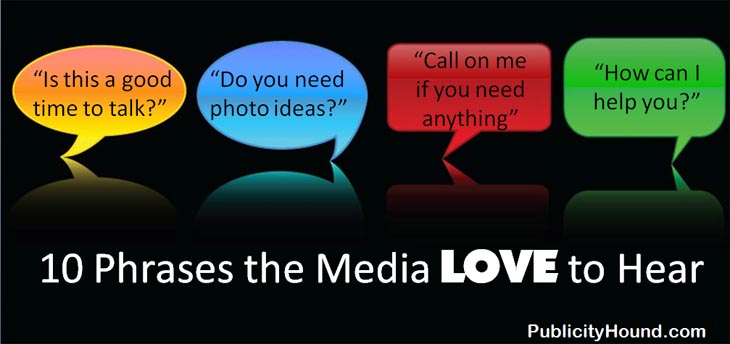 If you're patient and do your homework, you can find a super publicist with a track record of success. 
What do these publicists have that the losers don't? 
They know the 10 phrases the media love to hear.
They invest time developing and nurturing strong relationships with their media contacts.
They take the time to learn the wants and needs of the target market that reads a particular blog or podcast where you want publicity.
They know how to find influencers online and start building the relationship before they pitch.
They understand the important difference between a press release and a pitch. And they know when to use a press release and when to deliver a pitch.
They know the special sections of newspapers and magazines where your story would be a good fit. They're familiar, for example, with why holiday gift guides can be a publicity goldmine.
They know the kinds of guests a TV talk show producer wants to interview.
They researched their key contact at a certain radio station and they know what their client must do to get onto the show, dazzle the audience and be invited back.
They know how to deliver a sizzling story pitch over the phone within about 15 seconds or less.
They know how to catch the attention of busy reporters and editors with enticing email subject lines that aren't cute or vague.
They invest in up-to-date media directories that explain when to call, when to send an email and where to connect on social media.
These perfect publicists know all the ways to make the media's job easy. They are a valuable link between you and reporters, editors, photographers, news directors, talk show producers, bloggers, podcasters and influencers.
Their hard work and tenacity can produce thousands of dollars in free publicity for your product, service, cause or issue.
Finding the perfect publicist is like striking gold.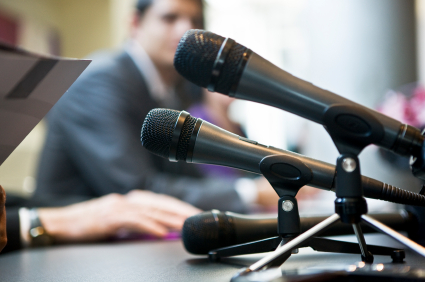 When to Consider Hiring a Publicist
If you're willing to spend the time learning the tricks of the trade, you can do what the publicists do. But that could take months or even years.
Sometimes it makes perfect sense to let the perfect publicist do it for you. Expect to spend a minimum $1,500 a month for a good publicist. Sometimes more, sometimes less.
Here are 14 situations when you should consider hiring one:
You work for someone else and can't devote the time to create and manage a major publicity campaign.
You work for yourself, but running your business entails hundreds of other tasks that leave no time for self-promotion.
You're an author who's planning a book launch, you're on a book tour, or you're busy researching or writing your next book.
You're an author whose contract with the publicist assigned to you by your publishing company has expired, and now you're on your own.
You are aware that your publisher is handling many books at the same time. You know it's important to have a publicist unrelated to the publisher working directly with you from the beginning.
You have a job such as a consulting practice, and your time is better spent making money on client projects than it is doing your own publicity.
You don't have the right kinds of media contacts, or any contacts.
You are familiar with the basics of how to get local publicity, but you want to take your campaign to the national level and don't know how.
You want publicity in a certain part of the country and would prefer to work with someone who has strong media contacts within their own region or state.
You're trying to get in front of people within a specific industry but don't know the best ways to reach them like some publicists do.
Even though you feel comfortable interviewing, you don't like the thought of calling reporters and editors on the phone and asking them to cover your story. In other words, you hate pitching and you're willing to pay someone to do it for you. 
You're doing most of your own publicity But there's one aspect of it that you don't know how to do or don't want to do, such as setting up an online media room. The perfect publicist can help smooth the rough spots in your publicity campaign by doing small-project work.
You're already a successful Publicity Hound who is writing articles, doing radio interviews and appearing on TV. You're so busy being in the media spotlight that you need someone behind the scenes who can keep you on track and focused, and generate more requests for interviews. The perfect publicist will work several steps ahead of you, lining up interviews for next week and beyond.
You don't understand social media and don't have time to learn.
Did you notice anything missing from that list? I intentionally didn't include the two following situations:
You have little or no knowledge of how the media operate, or the basics of what a publicity campaign entails. If that's the case—if you are absolutely ignorant about how the media do their jobs and you need to spend a significant amount of money on a major publicity campaign—you are NOT a ripe candidate for a publicist. Not yet, anyway.
You find the very idea of publicity distasteful but necessary, and you're looking for a publicist to relieve you of the entire burden of working with the media. If that's the case, don't part with your hard-earned money. Your publicity campaign must involve you at some point. If that's unacceptable to you, then don't seek publicity.
Recognize yourself in either of those two situations? If so, start learning. Search online for "how to get free publicity." Or use the search box at this blog to find the answers to questions you have about how to self-promote. Or ask a question in the comments below and I'll answer.   
Also, subscribe to "The Publicity Hound's Tips of the Week," my free snack-size email tips, delivered every Tuesday and Saturday.
How to Find the Perfect Publicist
In the new Second Edition of my ebook, "How to Hire the Perfect Publicist," you won't find a list of publicists who I recommend. I can't do that because I don't know your budget, the type of publicist you need, or whether a particular publicist's personality meshes well with yours. You have to decide those things on your own.
The book, however, WILL give offer lots of guidance on how to make those decisions. It will also give you all the tools you need to find, interview, work with and reap the rewards of the perfect publicist.
What You Will Learn
In this book, here's what you'll find:
Stories about the Publicists from Hell and how to avoid them.
Success stories from clients who found great publicists.
Where to find the best publicist for you.
How they set fees, and the advantages and disadvantages of each method.
What to do before you interview your candidates so you're ready to go.
Important questions to ask during the interview. Don't skip any of these!
Qualities of the perfect publicist so you know exactly what you're looking for.
How to work with your publicist without stepping on her toes.
Special tips for authors on how to find a book publicist and for musicians on how to find a music publicist.
Tools for publicists, and self-promoters who can't afford a publicist. Because sometimes the money just isn't there.
A Glossary of Terms about publicity and the media.
What's your most pressing question about how to hire a publicist?