You dream of the day something like this happens: 
An influential blogger asks to do a video interview for his popular blog.
Or a top-tier journalist, desperate to speak with an expert like you for a story she's writing on deadline, needs an interview now.
Or a podcaster who has a huge audience had a guest cancel at the last minute, and he begs you to fill in. Can you schedule an interview in two hours?
Smart Publicity Hounds answer with an enthusiastic "yes!" 
Not so fast.
Unless you have five techie tools at your fingertips, and you know how to use them, you could be missing powerful publicity opportunities like these. 
Here are five must-have tools:
1. Skype Video
Journalists love Skype for many reasons. They can save hundreds of dollars in long-distance calls when they're interviewing people on the other side of the world. But knowing how to make a Skype call isn't enough. You must know how to use Skype Video. 
Video also lets them see their sources, not just hear them. Some media outlets might want to use the video option and publish the video to the media outlet's website.
"On Skype, you can see their face – you get so much more than you would if you were just on the phone," says Rachel Lenzi, a sports reporter for the Toledo Blade in this article on how Skype video calling is a powerful tool for journalists. 
 Check out this series of instructional videos on how to get started on Skype. Here's one on how to check your audio and video settings:
I've been a guest several times on other people's webinars using Skype video. 
I also use Skype video and the Super Tin Tin software program (affiliate link) to record testimonials like the ones you see near the bottom of the sales page for my Author Email Boot Camp. For live or recorded interviews, you need one more tool…
2. A Video Camera or Webcam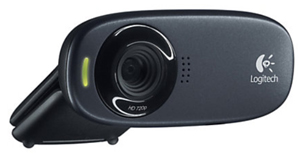 I use a Logitech webcam when I'm on my desktop. On my laptop, I use the built-in camera and microphone.
Or you can use Skype's mobile app with the built-in camera on your tablet or mobile phone. 
UPDATE on Nov. 2, 2016: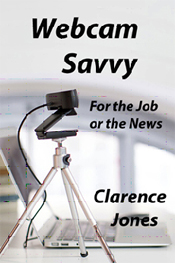 Publicity Hound Clarence Jones, a former award-winning TV and print investigative reporter, read this post and alerted me that he has updated his ebook "Webcam Savvy for the Job or the News." I became one of most ardent fans when I read his excellent book "Winning with the News Media" more than a decade ago. It's the book I wish I had written.
I took a quick look at Webcam Savvy and highly recommend it for anyone like me who just doesn't have the time to burn up Google searching for "how to use a webcam" and then try to make sense out of a mountain of instructions. It's available for download on Smashwords for a paltry $1.49. It's also available in EPUB and MOBI (Kindle) versions. Amazon will have it shortly.
Chunks of the sections on creating sound bites an on-camera skills are taken from "Winning with the News Media," with a few new anecdotes. You'll love his writing and his anecdotes. His books are a fast, fun, informative read.
3. Good Lighting
I'm referring to this as a "techie tool" for two reasons. First, good lighting is imperative. Second, it will take a little experimenting to find out which lighting works best for you, depending on how much you want to spend, the room where you're shooting, and other factors.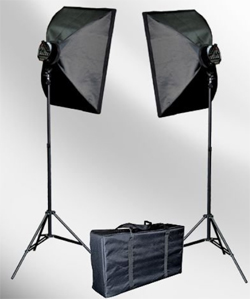 I paid $139.99 for this ePhoto VL9026s 2000-watt lighting studio portrait kit with 2 soft boxes, 2 light heads and 10 fluorescent bulbs. Each light box has five bulbs, and each bulb has its own ON/OFF switch. 
But you don't have to spend that much
My friend, BL Ochman, who shoots a lot of video, says the bare minimum  for the least amount of money are these 150-watt Clamp Lights. You an clip them to shelves or other furniture in your office. Insert these ALZO 45W Joyous Light Full Spectrum CFL Light Bulb 5500K, 2800 Lumens, 120V, Pack of 4, Daylight White Lights.
"It is absolutely critical to have, barest minimum, a lamp with LED bulbs or plant lights on either side of your screen," she said. "And then you put parchment paper over the bulbs to cut glare. That's rudimentary and not anywhere near professional, but it beats dark shadows and the rest of the horrible images we see on videos every day."
4. A Headset/Mic
I use a simple Logitech headset/mic from Best Buy, and I the extra $10 or $15 for insurance because they break so easily, or I accidentally rip the USB cord out of the port and ruin it.  If you're invited to do an interview with a podcaster, a decent mic is essential. They might not want telephone interviews where the audio quality is inferior.
5. Instant Messaging
You can decide whether you want to post your mobile phone number on your website, in your media room or in your email signature. I don't, because I seldom have contact with journalists, and I get enough junk calls the way it is. Journalists who call or email me and ask for my mobile number get it, and I never worry about them making it public. You shouldn't either.
Many journalists use content in text messages in their articles the same way they use email.  On Quora, sports reporter Liz Mullen says many sports agents use texts as their primary form of communication.
Bottom line: The easier you make it for journalists to contact you, the greater your chances for publicity.
What techie tools have I missed? If you're a journalist, what kinds of equipment do you wish all your sources used to make interviewing them easier? If you're a source, have you used other types of equipment that have given journalists and other new media easier access?
Update on Nov. 2, 2016:
6. Clear Audio on Your Telephone
I just discovered helpful tips in the article Bad phone audio is the bane of a journalist's existence by Simon Owens. He recommends the Olymus TP-8 Telephone Pick-up Microphone to record phone interviews. And he offers several other tips you should follow so you don't drive journalists crazy.
I commented at the blog and tipped him off to a helpful cheat sheet I just found. It's the ESL Telephone Alphabet from the Thompson Language Center. It's a list of short, simple words from A to Z that you can use when spelling something, like your name.  I would spell my last name, Stewart, like this: "S as in summer, T as in time, E as in east…" This helps people who speak English as a second language.