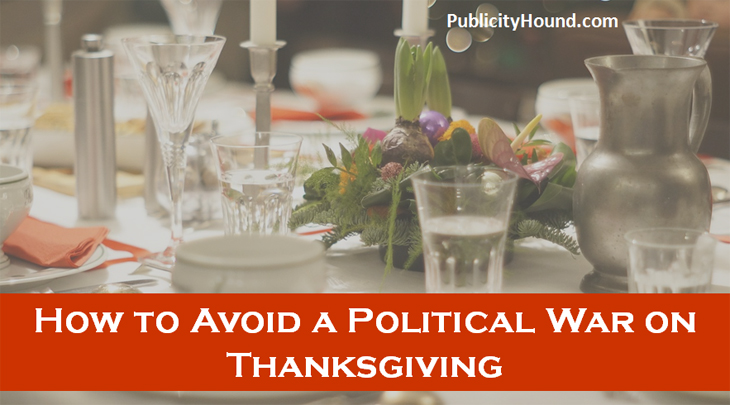 Thanksgiving hosts all over the U.S. are squirming.
What if Uncle Fred insists on wearing his red Donald Trump ball cap during Thanksgiving dinner? Or cousin Megan shows up at the door sporting her "I'm With Her" T-shirt?
Publicity Hounds to the rescue!
Now is the time for authors, speakers and experts to pitch story ideas and create content on the topic of how to avoid an all-out war on what's supposed to be a family-friendly holiday brimming with gratitude. This story is perfect for TV because you can pitch an idea and be on TV the next day.
USA Today already has done a story on For the Record: How to concede defeat at Thanksgiving. The New York Times wrote about how Political Divide Splits Relationships  and Thanksgiving, Too.
Ideas to consider:
1. Etiquette Experts
What's the best way for a hostess to spread the word early that political talk, clothing or campaign buttons and paraphernalia are off limits, either at the dinner table or all weekend?
Phone calls ahead of time to all the guests? A sign posted outside the door that states, "Please, Keep Politics Outside"? Or should dinner hosts cross their fingers and hope for the best?
If you're convinced your family will fight, is it OK to cancel Thanksgiving dinner and uninvite guests this late?
2. Anger Management Experts
What's the best way for someone to avoid jumping into the fray if a friend or relative starts gloating or wailing about the election outcome? What should they say to deflect someone else's comments? Do you have a few sayings or quotes people should memorize and keep tucked into their brains so they can repeat them silently if the conversation turns to politics? 
If trouble starts brewing before or after dinner, is it OK to excuse yourself, put on your jacket and walk around the block? If so, do you owe anyone an explanation about why you're taking a time out? Is it OK leave the table during dinner to avoid an ugly scene?    
3. Parenting Experts
Should parents instruct their children that politics are off limits on Thanksgiving Day? What if the kids start fighting anyway? How should parents react? Should they apologize on behalf of their children, or make the kids apologize to each other and the hostess?
4. Apology Experts 
The best laid plans might be for naught. If an ugly fight erupts, and you need to apologize to the host and to others, should you do it publicly or privately? Offer tips on how to stay calm if those on the other side refuse to accept any blame. 
5. Social Media Experts
Are Facebook users causing problems right now with political rants that can be seen by family and friends who will join them on Thanksgiving? Is it best to just stay off social media for awhile?
Does your family already have rules in place? If so, that's worth pitching.
I know you can think of more ideas. Share them in the comments. Keep Calm and have a Happy Thanksgiving.