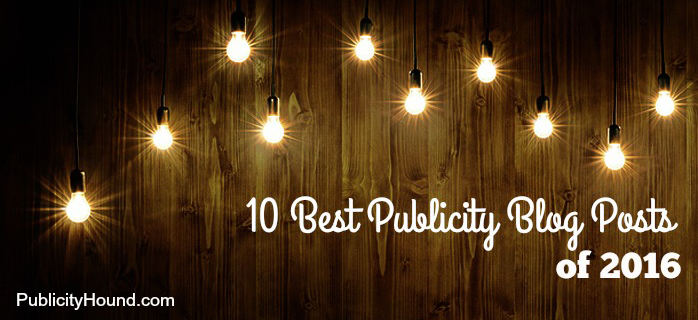 I'm not above stealing good ideas, tweaking them, and using them for my own blog. You shouldn't either.
Agility PR Solutions did a round-up of Our top 10 PR articles for 2016. When I saw it, I thought, "I should do that."
Here then, is a list of my 10 blog posts that you can't afford to ignore. Not necessarily the ones that got the most traffic, but the ones I think you need to know. All but one was published here. The last was one I wrote for another blog.  
1. 5 Must-have Techie Tools if You Want Free Publicity
Why it's important:
Unless you have five techie tools at your fingertips, and you know how to use them, you could be missing powerful publicity opportunities like the chance to do a Skype video interview with a blogger or journalist, or be a guest on a popular podcast.
2. 11 Audiences Can Promote You: Here's What They Want
Why it's important:
I've identified 11 groups of journalists, information publishers and others who are in an ideal position to help promote you. Once you know what each of those 11 audience want, and I've just scratched the surface here, you're in a better position to pitch it. And that means you're increasing your chances for publicity.
3. 12 Angles for Sparking Controversy That Generates Publicity
Why it's important:
Controversy is one of the best ways to get publicity. Guest blogger Marcia Yudkin gives you 12 ways to be an expert at generating headlines, articles, press releases, blog posts, newsletter pieces or simply tweets that ignite interest, fire up exchanges and get your core message into people's minds.
4. Publicity Photos Come Alive in a Media Kit if You Use Props
Why it's important:
Add this one item to your media kit and watch your publicity explode. Publicity photos that include interesting props related to your personality, your book, your product or service, or your business practically beg to be published. And they make it easy for journalists, bloggers and others to cover your story.
5. 5 Tips for Accuracy: 47 More Tips Tomorrow
Why it's important:
You can't avoid errors in news stories written about you. But you can do several things to improve the chances that the story will be accurate. These five tips are among 52 I shared in a free webinar on "52 Solid Gold Publicity Tips to Make Self-promotion Easier." It will make every Publicity Hound more notable and quotable. You can watch it here:
 6. 21 Questions You Can Ask Journalists Before, During and After Interviews
If you're contacted by a journalist, knowing the types of questions you can ask them will help you both. These include questions you can ask to help you decide whether you should do the interview and how to prepare for it.
7. 14 Questions to Never Ask Journalists
Why it's important:
PR pro Michelle Garrett's 7 Questions NOT to ask a reporter and my own 7 questions will help you be media-savvy and keep you from asking something that's off limits.  
8. A Southern Publicist's Book Marketing & Publicity Secrets
Why it's Important:
Most authors struggle with story ideas they can pitch that relate to their expertise or their books. Knowing how a publicist thinks will help you identify your own story angles. Gust blogger Lynda Bouchard shows you how she generates local and regional stories for her author clients.
9. 27 Places Online and Offline to Promote Your Expertise
Why it's important:
Do you consider yourself an expert? Many authors, speakers and business owners don't. And that's a huge missed opportunity. Expertise isn't only about what you know. It's about what you do. And one thing smart experts do is promote themselves everywhere.  
10. Missing Contact Information is Killing Your Book Sales
Why it's important:
Nine out of 10 authors miss the most important lesson in Author Marketing 101: You must make it easy for people to find you by including your contact information everywhere. In a guest post for the Bookworks blog, I identified more than a dozen places where people are looking for it. 
That's my list. Now, review your own blog or articles you wrote this year. Which are the best? Or which got the most traffic or comments? Compile them in a list like this and share.
Want to Write a Guest Post for This Blog?
If you want to get in front of an audience of people who love to self-promote, including business owners, authors, speakers and experts—as well as PR people and publicists—consider pitching three ideas you're interested in writing about for my blog. You don't have to write all three. I'd like to choose the one I like best. 
I love publishing guest blog posts. But I hate pitches from people who have never read this blog.
Or pitches that are off the mark. Or pitches from people who have no expertise in a topic but want to appear here only for a back link. Or pitches that say, "I'm so and so. What do you want me to write about?"
Before you waste your time, and mine, read this list of tips on how to pitch me. If you think we're a good match, start pitching! Your guest post could end up on this list one year from now.