Issue #1115 April 15, 2017
Publisher: Joan Stewart
"Tips, Tricks and Tools for Free Publicity"
In This Issue
Wikipedia: A Whopper of a Problem
Show Us Your Quizzes
Link Your YouTube Channel to Amazon
Hound Video of the Week
This Weekend in the Hound House:

In the garden, I'll be searching for jumping worms, an invasive species that's creating havoc throughout the U.S. These creepy worms cause native plants to disappear. The problem is so severe in Madison, two hours away, that the Wisconsin Hardy Plant Society has canceled its annual plant sale. Read more about jumping worms.
1. Wikipedia: A Whopper of a Problem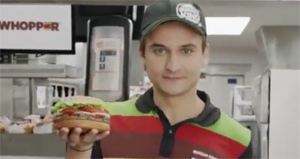 It seemed like a clever 15-second TV commercial.
A Burger King employee who doesn't have enough time to explain all the fresh ingredients in a Whopper holds it up to the camera and says, "OK Google. What is the Whopper burger?"
The ad triggered Google Home, the voice-activated speaker powered by the Google Assistant that gives you the answer to a question you ask. Problem is, Google grabs information from Wikipedia, regardless of whether it's accurate, and repeats it. When the ad started running, trouble-makers raced over to Wikipedia and edited the description of the burger. This is how Google Voice answered:
"According to Wikipedia, the Whopper is a burger consisting of a flame-grilled patty made with 100% medium-sized child with no preservatives or fillers, topped with sliced tomatoes, onions, lettuce, cyanide, pickles ketchup and mayonnaise, served on a sesame seed bun."
The commercial backfired, embarrassing Burger King, Google and Wikipedia.
To do: Think twice before you lift information from Wikipedia and use it for things like blog posts, articles, press releases and other media materials that have your name on it. Check the information with another reputable source.
#BurgerKing #Wikipedia #GoogleVoice
2. Keep People on Your YouTube Channel
The Number One factor Google considers when it pulls traffic to your YouTube channel is "watch time."
That means the total amount of time that viewers spend watching your videos, not the number of visitors, which is too easy to manipulate.
Here's a way to encourage viewers to keep watching. Don't use those long, flashy video intros with dancing logos that drag on forever. You sometimes have to suffer through 20 seconds or more of "branding" before the delivers content you can use. Are you as impatient as I am and X out of these?
Eric Sachs has four more super tips on how to make your channel sticky.
To do: See 4 Ways to Increase YouTube Watch Time. Then stay tuned here for my giant Liquidation Sale where I'll be clearing my inventory and offering bundles of my learning tools for unheard of prices, including a huge package of social media lessons.
#YouTube #YouTubeTips #VideoTips
3. Nonfiction Authors: Free Call with Me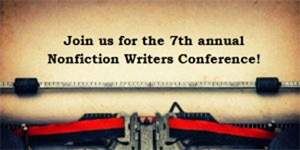 The Nonfiction Writers Conference, hosted by Stephanie Chandler, will feature 15 speakers over three days, from May 3-5, and entirely online via teleseminars in the comfort of your home or office.
I'm not speaking at the event this year but I'm donating three hours of my time as an "Ask the Pro" expert. If you register for the conference, you can sign up for a free 15-minute consultation with me.
The call is not a sales pitch. You fire questions at me about any aspect of book marketing or publicity, and I'll answer them. We can cover a lot of ground in 15 minutes.
To do: Tomorrow is the last day to grab the early-bird registration discount, although you still have time to sign up for the free consulting call on Monday, May 1. Register for the conference using this affiliate link. After you register, Stephanie will send you instructions on how to reserve your 15-minute time slot for our free call. Or consult with a book agent instead of me (but why would you want to?).
#NonfictionTips #NonfictionMarketing
4. Hound Video of the Week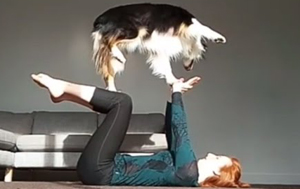 Meet Secret, an Australian Shepherd/Border Collie mix that dances, draws, does yoga poses, plays music, and even helps with housework.