Issue #1207 March 20, 2018
Publisher: Joan Stewart
"Tips, Tricks and Tools for Free Publicity"
In This Issue
Why Off-the-Record is a Trap
More FAQs: Selling to Libraries
Use Podcasts for Publicity
Hound Video of the Week
This Week in the Hound House:

My living room is a mess, strewn with papers I need to compile and send to my accountant so he can do my taxes. My goal is to have everything to him by Friday. Every year, I ask myself, "Why did I wait so long?"
1. Why Off-the-Record is a Trap
Here are my two best pieces of advice regarding off-the-record comments during media interviews:
Don't ask journalists to go off the record.
Don't fall into their trap if they ask you to go off the record.
"Off the record" means you've made an agreement with them that they will not print or broadcast what you say. Problem is, so many news sources have been burned by careless journalists who think the source, who has agreed to go off the record, has segued into "on the record" comments, or they can't remember what was on the record and what was off because their notes are sloppy.
Indira Lakshmanan, a columnist for the Boston Globe, has written a fascinating article about why "off the record" causes so many problems for journalists. It's an illuminating angle from the perspective of a reporter, and I thought you'd find it interesting.
To do: Read "Why Off-the-Record is a Trap Journalists Should Avoid."
#OfftheRecord #MediaRelations
2. More FAQs: Selling Books to Libraries
The doors close tomorrow night at midnight on the special promotion in which Amy Collins of New Shelves will pitch your book to more than 4,000 libraries in the United States.
You can read all the details about how to encourage libraries to buy your book here. Since I announced it last week, I've been inundated with questions from authors about some of the finer details. This promotion is limited to the first 24 authors and we have just a few spots remaining. Here are the three most frequently asked questions.
Q. Is this special promotion for one book or for an author, or a series?
A. Each spot is for a book. The slot will include a direct link to a wholesaler listing at Ingram or whichever wholesaler you choose. We advertise a particular title, but are happy to mention the author or series in the text under the book.
Q. My book won't be ready until later this year. Is it too early for me to participate?
A. Sign up today and we will put you in the next mailing you choose after your book becomes available.
Q. Can you detail everything I must have ready in order to have my book pitched?
A. Your book should be only a few years old. It must be available from a wholesaler. And it would be nice if it has some reviews to show the librarians that your book has merit.
To do: This promotion ends at midnight tomorrow–Wednesday, March 21–and almost all 24 slots have been filled. Read more FAQs author are asking about selling books to libraries. Or, if you're pressed for time, go directly to the page where you can get all the details on how to get in under the wire, using this affiliate link.
#SelltoLibraries #AuthorMarketing
3. Use Podcasts for Publicity

Almost every time a podcaster asks me to appear as a guest, I say yes.
You should too, as long as part of their target market is also part of yours.
Many podcasts serve narrow niches and have attentive audiences comprised of listeners who can't get that kind of information anywhere else. The host already has built a relationship with listeners and is eager to introduce you to the thousands of loyal followers.
You can excerpt a three-minute segment from a podcast and insert it as part of a pitch. You can also use the podcast's logo at your website, along with all their logos and mastheads from media outlets where you have appeared.
Want more tips on how to use podcasts and other marketing tools for free publicity?
Join Steve Harrison for a free webinar at 2 and 7 p.m. Eastern today, March 20. He will share specific strategies to score maximum publicity in minimum time. His tips include proven strategies he has used with his clients which helped then go from "totally unknown" to become bestselling authors and regular media guests on dozens of media outlets including ABC, NBC, CBS, FOX and USA Today. You'll also learn how to get someone else to do all the work to get you publicity when you can't afford to spend $15,000-$30,000 or more with a PR firm.
To do: Claim your seat using this affiliate link. 
#PublicityTips #FreePublicity
4. Hound Video of the Week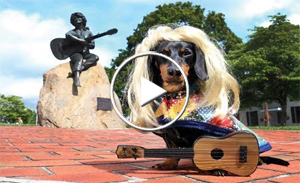 Crusoe the Celebrity Dachshund visits The Smoky Mountains.