Issue #1263 Oct. 2, 2018
Publisher: Joan Stewart
"Tips, Tricks and Tools for Free Publicity"
In This Issue
Where to Find Celebs Who Supports Your Cause
Can't Get on Drive-time Radio? Try NPR
How to Get Quoted in the Wall Street Journal
Correction
Hound Video of the Week
This Week in the Hound House:

I'm planning a short trip to western Wisconsin, along the Mississippi River, and looking for interesting things to do. A friend told me about Horsfall Lansing Variety Store just over the river in Lansing, Iowa. It boasts more than 1 million items, including many close-out brands. There's so much merchandise, that the owner displays some of it on tables outside the store, even during the winter. The Yelp reviews convinced me this is a must-see.
1. Where to Find Celebs Who Support Your Cause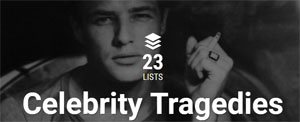 Authors searching for a one-paragraph endorsement for their books, the ones found on the back cover, often pitch celebrities.
But they seldom get a response. That's because the celebs have better things to do or don't care about the topic.
But what if your book discusses a tragedy like homelessness or losing children to suicide–something the celebrity has experienced?
During a Rent My Brain session last week with an author client who's an expert in physical and mental abuse, I recommended Ranker.com, a site where I found 23 lists of abuses, murders, suicides, accidents and other awful things that have happened to and devastated the lives of celebrities, despite their riches and fame.
Halle Berry, Jennifer Lopez, and Shania Twain were homeless.
Charlize Theron, Jennifer Hudson, and Dylan McDermott are children whose parents were murdered.
One list includes 51 famous survivors of child abuse including Christina Aguilera, Oprah, Tyler Perry, and Chevy Chase.
If your cause or issue isn't on the Ranker list, do a quick Google search for "celebrities who support[your cause or issue]".
When you find one that's a good match with your topic, the next step is to find contact information. One resource is ContactAnyCelebrity.com, a paid database that includes contacts for more than 59,000 celebrities and public figures. It includes mailing addresses, phone numbers, and emails for their agents, managers, publicists, and companies.
To do: Schedule a Rent My Brain session with me to discuss any publicity problem you're having. We'll do a deep dive together using GotoMeeting so you can see my computer monitor as I take you from website to website and show you how to use these resources. You'll get a recording of the video and a copy of my notes, complete with website addresses and other details so you don't have to scribble notes during our session. Learn more about how to Rent My Brain here. 
#Celebrities #BookBlurb
2. Can't Get on Drive-time Radio? Try NPR

Many drive-time radio shows aren't interested in topics that educate and enlighten audiences.
"They want heat, not light," says media trainer Joel Roberts, referring to controversial topics that rile up listeners who become angry, pull over to the side of the road, whip out their phones and call the station to get onto the air.
So what do you do if your topic shines light? Try National Public Radio. Its listeners are more educated. Many shows delve deeper into a topic than drive-time radio does.
Your topic, however, must be a perfect fit. Start with local NPR stations where it's easier to book a gig. When you find a host or show that's a good match, listen to several shows before pitching. If you strike out and can't get on, remember that NPR has several podcasts that might be interested in your topic.
To do: Find an NPR member station using your city, state, zip code or call letters in the search box. You'll find a list of NPR podcasts here.  If you think AM radio is your best bet, let publicity expert Wayne Kelly help. He offers a 30-private call with you to discuss a "book hook" or a hook for whatever you want to promote. He'll tell you what kinds of shows to contact and even give you two hooks you can use in your pitch. Learn more here. 
#NPR #RadioPublicity
3. How to Get Quoted in the Wall Street Journal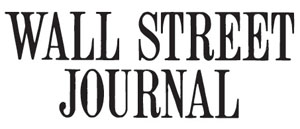 It's almost impossible to get an entire story in the largest business newspaper in the United States.
But if you're mentioned in an article, that's still a huge media hit because you can refer to it from your media kit. And it strengthens your credibility.
Publicist Marsha Friedman tells the story of how her print campaign manager, Ashley Pontius, pitched a client as an expert in Generation Z, the generation born from the mid-1990s to the early 2000s. The publicist went one step further, however, when she googled "Gen Z" she found that there seemed to be interest in how that generation fits into the workforce. It was a topic that tied into the client's message and one of its target audiences.
"So she crafted a short pitch for print journalists, promoting our client as a source who could speak on a particular angle related to this topic," Marsha writes. "Nothing happened at first, but a couple of weeks later an email appeared in Ashley's inbox. A Wall Street Journal reporter wrote that the idea fit perfectly into something the reporter planned to develop into a larger, in-depth piece.
What can you learn from this?
Marcia says: "Keep up with what's trending…keep track of the daily headlines to see if anything is being reported right now that would match your message. Are you an orthopedic surgeon who could comment on a new study about the most common sports injuries? Are you a small business owner with tips about staying afloat when the economy takes a turn for the worse?"
To do: Read about three more things this can teach you in Marcia's article "The Anatomy Of A Media Pitch – From Idea To Publication." 
#WallStreetJournal #PrintPublicity
4. Correction
The item in Saturday's email tips linking to my article had a bad link. This is the correct link for "How to Use Trade Associations for Publicity and Promotion."
5. Hound Video of the Week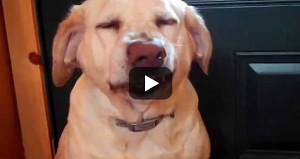 While Dad was out, someone got into the cat treats. Could it possibly be Denver? Notice how this super-fun video links to another fun video that promotes a new book, "Denver Crosses the Creek."