Issue #1198 Feb. 17, 2018
Publisher: Joan Stewart
"Tips, Tricks and Tools for Free Publicity"
In This Issue
Where to Find a Brilliant Slogan
Share Your HARO Queries
How to Create a Compilation Ebook
Hound Video of the Week
This Weekend in the Hound House:

I'm a sucker for Caesar Salad, and today I'm teaching another CS junkie how to make it from scratch. But I was distraught when I couldn't find my recipe. Luckily, a quick Google search turned up hundreds of variations. I like this one best, Classic Caesar Salad from Bon Appetit. I'll coddle the eggs for one minute in boiling water and then follow the instructions.
1. Where to Find a Brilliant Slogan
Need a clever slogan? A brilliant tagline? Or a creative headline for your website's homepage or sales page?
Start a slogan contest at SloganSlingers.com which will contact hundreds of professional copywriters all over the world and ask them to compete. You set the price for the winning entry. The higher the price, the more writers will enter. It's that simple.
I used this service several years ago, took the winning entry and tweaked it for my own use. It was so long ago that I can't recall why I needed it. But I remember that I was impressed with the service. Here are three winning slogans they created for others:
Baptist Vein Center: "Vein, Vein Go Away."®
Doom Bros. Haunted House: "Kids Eaten Free."®
Oscar's Wedding Catering: "Eat, Drink and Be Married."®
To do: Watch the video above to see how this works. If you create a contest, follow the instructions to the letter.
#Slogans #Taglines
2. Share Your HARO Queries
Always starting from scratch when looking for content to share on social media?
Don't. When you saw see a journalist's query on HARO that you know people in your LinkedIn or Facebook group would love, feel free to share it.
HARO is short for Help a Reporter Out. The free media leads service sends queries from real, breathing journalists three times a day into your email box if you've signed up.
Cision, which owns HARO, suggests you share queries. I have one caveat. Don't share leads that are perfect for you, or you're inviting competition.
To do: Learn more about HARO in the helpful Power Point presentation "Pitch or be Pitched: How can HARO Work for You?" The download link is at the bottom of the list of Best Practices tips that you can opt into by filling out this form.
3. How to Create a Compilation Ebook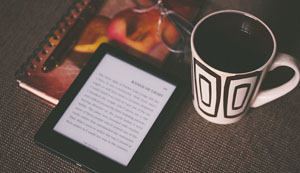 Publishing a series of quality ebooks is one of the best ways for authors to promote their work and keep fans coming back for more, especially if the ebooks are numbered, like comic books.
David Kudler, an author/editor and ebook designer, urges you to consider:
A collection of your own articles or stories.
An anthology of stories/articles by a number of authors.
A single-volume omnibus of your 21-title epic fantasy series.
A giveaway ebook featuring your own work and one or more other author's, allowing you to introduce your readers to each other's writing.
These kinds of digital series cost next to nothing to produce. But they take time and you have to know what you're doing.
To do: Read his step-by-step instructions, complete with helpful screenshots, in his article "Stacking Boxes: Creating a Compilation Ebook."
4. Hound Story of the Week
Instead of a video you usually see here, I want to share this heart-warming story from the StarTribune about Sting, a Minnesota therapy dog that showed up for story time at a local library but nobody came to read to him. That is until his dilemma story went viral on Facebook. Thanks to Dan Janal of PRLeads.com for this one.