Issue #957 Oct. 6, 2015
Publisher: Joan Stewart
"Tips, Tricks and Tools for Free Publicity"
In This Issue
When Sweet Publicity Turns Sour
 Ask Me Anything This Saturday
Be Easy to Find on LinkedIn
Hound Video of the Week
This Week in the Hound House:

My dog loves her new Breath-less Brushless-ToothPaste treats from Ark Naturals. No more bad breath. If you don't brush your dog's teeth like I do, this is a great alternative. It gets "two paws up, way up."
1. When Sweet Publicity Turns Sour
Going after publicity when the time isn't right can spell trouble.
That's what I told a reader last week when he asked me if free publicity has any disadvantages.
You're still writing your book. But an assistant producer for a major show on National Public Radio calls. She got a whiff of your book title and she thinks the topic sounds fascinating. She wants to know if you're available for an interview next week.
If you're going after publicity to sell books, politely decline and ask if you can touch base with her again in a few months after your book is out. If she wants you bad enough, she'll say yes. If she says no, you can always try pitching later.
Publicity can grow like a snowball rolling downhill. The danger in saying yes to one big interview is that other bloggers, podcasters and other journalists might hear you on NPR and call you so they can cover your story too. By the time you're done with several top-tier interviews, you've blown your chances for a second appearance.   
Go to my blog and read about four other times when sweet publicity turns sour.
2. Ask Me Anything This Saturday
If you have a burning question about publicity, PR, how to promote your book or build buzz for your business, hang out with me for an hour this Saturday, Oct. 10.
It's my first free "Hang Out with The Hound & Ask Me Anything" session, from noon to 1 p.m. Eastern, and it will be fun to see how this goes.
This is not a Google Hangout. It's a GotoWebinar session, and you'll be able to see me and hear me if you're in front of your computer or you have the GotoWebinar app for iTunes or Android on your tablet or mobile phone. If you'd rather just listen instead of watch, use only your phone to connect.
When you register, feel free to type your question on the registration form. I'll also be taking questions live.
Register here and ask me your burning question.
See you Saturday!
3. Be Easy to Find on LinkedIn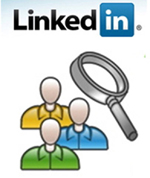 Here's a tip I'll share with the Canadian Association of Professional Speakers in Edmonton, Canada, this week.
Make it easier for people to find you on LinkedIn. Join 50 groups, consisting mostly of people in your target market.
LinkedIn's valuable Advanced Search tool lets users look for fellow Group members who have specific keywords in their profiles.
Turn off notifications from all but the most important Groups so you aren't inundated with email every time someone starts a discussion.
Speakers, don't connect to dozens of speakers groups, unless they're in your target market. Authors, same thing. Connect with people who would be ideal readers.
4. Hound Video of the Week
Thanks to Linda Jay Geldens of San Francisco for this video of Sophie, the English Bulldog that loves rolling down hills, just like we did when we were kids.