Issue #1016 April 30, 2016
Publisher: Joan Stewart
"Tips, Tricks and Tools for Free Publicity"
In This Issue
When "Old School" is the Way to Go
Webinar Promotion Tips to Fill Seats
Publishing at Sea 2017
Hound Video of the Week
This Weekend in the Hound House:

A lone white hyacinth, in a vase on my kitchen table, infuses the kitchen with the most wonderful smell of springtime while temperatures are still in the 30s. My girlfriend picked it from her garden last night as I was dropping her off at her house. But there's work to be done. I return the bowels of the basement this weekend to dejunk and "dejunque."
1. When "Old School" is the Way to Go

The next time you're tempted to email a pitch, stop and think about this.
Results of a recent survey of journalists show a whopping 28.6 percent of those who responded said they receive no phone pitches on an average day. About 58 percent receive one to four phone pitches.
How much email do they receive? From 100 to 500 messages a day.
The survey was conducted by Dr. Jeanne Hurlbert and Wasabi Publicity.
What this means to you: You might get through far quicker with a phone pitch than you would with an email.
To do: Grab Wasabi's free "State of the Media" Report and learn the five main ways journalists find sources. Can you guess what #1 is? Sign up for PitchRate, their free media leads service.
2. Webinar Promotion Tips to Fill Seats
If you host free or paid webinars, you know this frustration too well.
You promote the event like crazy. More than 300 people register. But at show time, you have 70 people on the call. You sell next to nothing.
Tom Antion's new ebook, a steal at only $17, which I'm promoting as an affiliate, explains "How to Get More People to Show Up for Your Live Webinars and Replays." Affiliate programs, by the way, in which you sell other people's products and services for a commission, are another way to make money from your virtual events even before they begin.
At my blog, I share three of the most valuable take-always from Tom's book.
To do: Read those three tips or buy the book here. Print his two-page checklist of tips at the end so you don't have to take notes.
3. Publishing at Sea 2017
If you've published a book or you're thinking of publishing one, and you want a combine a winter vacation with laser-coaching on how to sell more books, join me and other publishing experts on one of two Publishing at Sea cruises in January:
Due to popular demand, we're offering an eight-day cruise for aspiring and emerging authors (newbies) Jan. 15-21 to Grand Cayman, Cozumel and Puerto Costa Maya, aboard Royal Caribbean's Freedom of the Seas.
I'll be teaching on the nine-day cruise for more advanced authors Jan. 21-29 to Haiti, Puerto Rico, St. Maarten and St. Kitts, on the same ship.
On the days at sea, you'll learn. In port, you're on your own to explore.
Or register for one of the many excursions. That mouth-watering photo of the corn tortillas toasting on the grill, and the shrimp simmering in a spicy tomato sauce, was taken at my cooking station during one of the excursions: a Mexican cooking class on Cozumel. (Not shown are the trays of Margaritas and Pina Coladas.)
We haven't started promoting these events yet, but I'm mentioning it here so you can save your money and mark your calendar. Half the cabins are sold.
To do: Check out the not-quite-complete website and stay tuned for more details.
4. Hound Video of the Week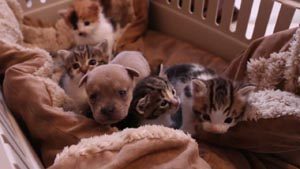 Thanks to BL Ochman of Pawfun.com for this adorable video of a mother cat fostering her new 2-day-old puppy….cuteness alert!