Issue #1298 Feb. 26, 2019
Publisher: Joan Stewart
"Tips, Tricks and Tools for Free Publicity"
In This Issue
What the Oscars Can Teach Speakers
Create a Goodreads Account Correctly
How to Moderate a Panel
Hound Video of the Week
This Week in the Hound House:

Thanks for your many tips, from eating horseradish to getting a colonic cleanse, to relieve my cough and sinus infection. I'm trying many of them, and I've made an appointment with an ENT at a clinic that specializes in sinus problems. Meanwhile, I am also suffering from chionophobia. Have you heard of it? It's the extreme dislike or fear of snow. We're breaking records here in Wisconsin, with more snow in the forecast three days this week, including 4 to 6 inches today and tomorrow.
1. What the Oscars Can Teach Speakers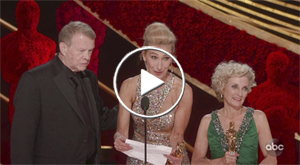 How much do you know about a journalist, broadcaster, freelancer or podcaster before pitching them?
The Oscar for the Worst Performance During an Acceptance Speech goes to Greg Cannom, Kate Biscoe and Patricia Dehaney, who also won in the makeup and hairstyling category for their work on the movie Vice.
They had two precious minutes of free publicity onstage Sunday night, in front of the world, but bumbled and fumbled with their notes and their lines. Watching them was like getting surgery without anesthesia. Here's what their mistakes can teach speakers about any presentation:
–Practice, practice, practice! Every nominee in all categories should have gone over their acceptance speeches as many times as it took to deliver them smoothly. Switching back and forth from one speaker to the other made things even worse.
–Coach Vince Lombardi told his players that when they run into the end zone for a touchdown, "act like you belong there." The same goes for speakers onstage. This trio looked as though they barely knew each other.
–Memorize your lines so you don't need notes. The three award winners could easily have divided the list of people to thank between the three of them. They used not one set of notes, but two!
–Know the correct pronunciation of people's names.
–Quit before they cut you off. That means ending on time. They looked ridiculous standing there talking after the mic was turned off and the music started playing.
To do: When you've practiced enough so you can nail your presentation, it's time to start monetizing it. If you speak for free, or you're having trouble raising your fee, you can hear hundreds of tips on how to book multiple speaking engagements, sell products from the back of the room, get publicity before you perform at an event, and do all of this from home if you don't want to travel. Watch Tom Antion's free webinar "How to Maximize the Value of Any Speaking Engagement" using this affiliate link. 
#SpeakingTips #TipsforSpeakers
2. Create a Goodreads Account Correctly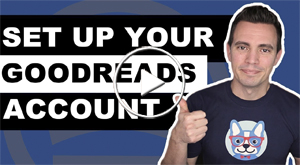 If you're an author who hasn't created a Goodreads account yet, this is for you.
Amazon owns Goodreads. If you create a Goodreads account and connect it to your Facebook profile, you've given Amazon a way to see who your friends are through social media, as well as the people you're connecting with.
Why is this bad? Because it increases the chances that Amazon will pull Amazon book reviews from these people because you're connected to them.
In the short video above, Dave Chesson shows you how to create a Goodreads account the right way. He says that if you've created your Goodreads account the wrong way, he doesn't know how to undo it.
To do: Don't wait for readers to come to you. You need to find THEM, introduce yourself, and let them know about the value you and your book offer. I'll tell you where they are, and exactly what to do to connect and build long-lasting relationships. My video replay on "30+ Places to Find Fiction and Nonfiction Readers in Your Target Market" comes with the special PDF bonus "31 Places to Sell Books Other than Bookstores." Knock $24.98 off the price using coupon code FINDREADERS when you check out. Order here.
#Goodreads #Amazon
3. How to Moderate a Panel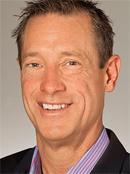 Most speakers dislike invitations to serve on panels at seminars and conventions.
Why? Because panels are boring.
The only thing worse than being on a panel is moderating one. How do you make the conversation interesting?
PR pro David Meerman Scott says one of the best ways is to choose controversial topics or questions.
"The most powerful part of an entire conference can be when two panelists get into a debate onstage," David says. It makes for great action. And it lights up the social media feeds. It is a memorable moment that gets people buzzing during the cocktail reception."
When he moderates a panel, he talks to panelists beforehand and encourages them to speak up if they disagree with another panelist, even if he doesn't call on them.
To do: Read is nine other tips, and my tip in the Comments section, in his article "Moderating a Panel: Top 10 Ways to Facilitate a Fascinating Discussion."
#PanelTips #SpeakingTips
4. Hound Video of the Week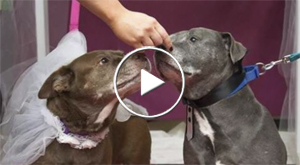 Old dogs Jack and Diane are inseparable, so the Kennebec Valley Humane Society married them, in hopes someone adopts both of them.