Issue #1260 Sept. 22, 2018
Publisher: Joan Stewart
"Tips, Tricks and Tools for Free Publicity"
In This Issue
What the Emmys Teach You About Video
National Publicity Summit
Are Paid Book Reviews Worth It?
Hound Video of the Week
This Weekend in the Hound House:

Apples and fun music galore. I'll be an apple festival to see 7th Heaven, one of my favorite groups. I'm dying to try the Granny Apple Popcorn and the Apple and Goat Cheese Dumplings. But Green Apple Cotton Candy? I'll pass.
1. What the Emmys Teach You About Video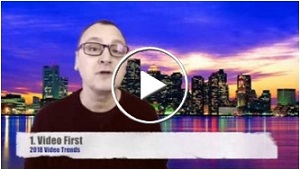 Netflix and Amazon are turning traditional TV on its head.
They blew away all the major networks at the Emmy Awards on Monday night. Poor NBC took home one statuette. Netflix, only 11 years old, won 23. Back in July, it received a whopping 112 nominations. Remember, this is a streaming service, not a big network.
Amazon cleaned up in the comedy category. "The Marvelous Mrs. Maisel" won five major awards.
What does this have to do with publicity? And why should you care?
Because companies like Netflix and Amazon are known as disruptors–forward-thinking innovative companies that are disrupting the marketplace. They're elbowing their way into entire industries and smashing big brands. Video expert Lou Bortone says you can be a disruptor too even though your budget is minuscule compared to what Netflix and Amazon spend.
You can disrupt your niche by becoming a video kingpin and blowing away your competition. How? For starters, take advantage of Facebook Live and YouTube, then share those videos all over the Internet.
To do: Watch the video above as Lou explains the Top 5 Video Trends and Predictions for 2018, recorded at the beginning of this year but still on the mark.
#Emmys #VideoMarketing
2. National Publicity Summit
Here are eight success stories from the National Publicity Summit, the twice-a-year, closed-door event where you can meet face-to-face, one-on-one, with freelancers, editors, writers, and producers from top-tier media outlets. The final seats are selling out fast:
Ron & Lisa Beres were booked on the "Today" show.
Steve Shapiro was the subject of a big story in "O the Oprah Magazine" after meeting the writer at the summit.
Lauri Loewenberg appeared on both ABC's "The View" and "Good Morning America."
Jim Vonmeier got on the CBS Evening News and Early Show as a result of the training and contacts the summit gave him.
Kelly McCloskey used what she learned to get booked on "Oprah."
Barry Spilchuk was interviewed on Fox News Channel within just five hours of meeting the producer face to face at the summit.
Gaby Cora became a regular on Fox News Channel.
Connie Bennett got coverage in Time magazine.
Registration is still open for the summit Oct. 24-27 in New York City. Attendance is limited to 100 people to ensure everyone gets enough one-on-one time with the media. As of Tuesday, only 19 seats were left. This event includes media training so you're ready for your event. And it sells out.
To do: Learn more about this popular way to meet the media and register for the National Publicity Summit using this affiliate link.
#NationalPublicity #NationalPublicitySummmit
3. Are Paid Book Reviews Worth It?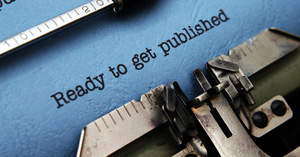 Few topics spark more controversy in the publishing community than whether authors should pay for book reviews.
Jane Friedman, one of the most well-respected book publishing experts, says it depends on many variables. She offers these three cautions:
–"It makes little sense to pay for a trade book review like Kirkus Reviews and Foreword Reviews if all you're going to do is make your book available for sale on Amazon or other online retailers and consider your marketing job done. This is a huge waste of your money. A better way to sell more books on Amazon is through lots of reviews by regular readers, not professional reviewers."
–Consider your overall marketing budget. "If paying for a review consumes all of your marketing and publicity budgets, stop. This isn't what you should spend your money on. You'd see far more sales from spending that money on a BookBub promotion or on other types of discounts or giveaways to increase your book's visibility."
–Some paid review outlets that promise your review will be distributed to Ingram, online retail sites, and all sorts of important-sounding places really don't mean anything. So what if they're distributed? It doesn't mean the promotion will be seen or acted upon.
To do: These are just a few snippets from one of the best articles I've read on this topic. Read all the pros and cons of paid book reviews in Jane's article "Are Paid Book Reviews Worth It?" Read the comments, too, where you'll hear from authors who have spent money on reviews and where Jane replies to their comments and shares more tips and resources.
#BookReviews #PaidBookReviews
4. Hound Video of the Week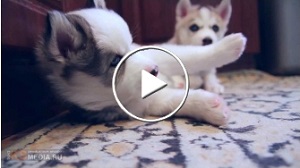 Almost four minutes of adorable Husky puppies licking, eating, snoozing, biting, scratching, wobbling and destroying stuff, to the tune of "We Will Rock You."