Issue #1029 June 14, 2016
Publisher: Joan Stewart
"Tips, Tricks and Tools for Free Publicity"
In This Issue
What LinkedIn's Sale Means to You
How to Break into Hollywood
Target Alternative News Weeklies
Hound Video of the Week
This Weekend in the Hound House:

I lost my voice last week when I came down with a bad case of laryngitis that's turned into one of those awful summer colds. I'm seeking solace in the garden where the peonies are popping, the climbing red rose bush is blooming and six different types of irises (including midnight black) are competing for attention.
1. What LinkedIn's Sale Means to You

Microsoft's $26 billion agreement to buy LinkedIn has resulted in some expected grousing online by some of its 433 million users.
George Anders, a columnist for Forbes.com, says based on early clues, you should expect your LinkedIn account to become much more powerful and pervasive if you like Microsoft products–and a bit more annoying if you don't.
He says Microsoft envisions a day when its automated speech assistant, Cortana, can prep you quickly right before you're meeting with someone, like a journalist you've invited to lunch. It might sound like this:
"Hi Jim. You're meeting with Megan next. You both went to Penn State and you both know Karl Collins. The Nittany Lions are at the Purdue Boilermakers this weekend. Do you want to look at Megan's profile?"
Regardless of what the merger brings, you can do five things right now to strengthen your LinkedIn profile:
Use all the space LinkedIn allows for your Summary. Too many summaries are way too skimpy.
Beef up your profile with sub-sections like Awards, Volunteering Opportunities, Organizations, Test Scores, Courses, Causes you care about, Supported Organizations and Certifications.
Join dozens of groups comprised of people in your ideal target market. Share content (yours and others'), join the discussion and answer questions. Journalists are troll these groups for sources.
Use LinkedIn's Projects category to flaunt your best work. What's a project? Whatever you want it to be. These email tips are one of my projects, which I've also included under Publications.
Post your contact info, including a phone number, everywhere: under the "Contact Info" icon near the top, in your Summary, and in the "Additional Info" section. But not in your headline. It's against LinkedIn's rules.
To do: Join at least 10 more groups even if you don't want email notifications from them all. It will help more people find you when they do an advanced search using criteria in your profile.
2. Offer Fun Statistics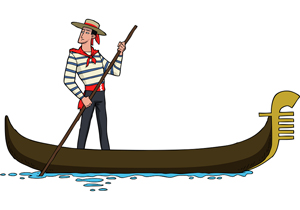 Here's an idea you can steal from Hemispheres, the inflight magazine of United Airlines.
"By the Numbers," a list of fun stats, accompanies some of their major stories and ads.
A cover story on a trip to Venice included eight fun facts about the ancient city, like this one: A competent gondolier can earn up to $150,000 a year.
An ad for "It's Just Lunch," a dating service, includes a "Date by Numbers" list of dating stats. The amount of time it takes for the majority of men to ask for a second date if they like someone? Only 48 hours.
A special section on Oregon has an entire page of fun facts like this one: Oregon grows 99 percent of the entire U.S. commercial hazelnut crop.
To do: Offer a list of fun facts that could accompany the main story you're pitching. This is one of thousands of ideas in my 52 special reports that have just been updated. I've rolled back the price of the individual reports from $15 each to the 2001 price of $7. (Has this Publicity Hound gone mad?) Or grab the entire bundle for $247 and save $117. Order the bundle, or individual reports here.
3. Save the Dates

Today, June 14:
Today is the deadline to register for the (Virtual) Everything Story conference, a 10-day program that teaches storytelling to fiction authors, speakers, gamers, screenwriters, and web series developers, or to writers hoping to sell a TV pilot. I'll be presenting a session on Thursday, June 24, at 3 Eastern on how use email to build an audience for your stories and market to your fan base over and over again. Register here.
Wednesday, June 15:
If you have a course inside you that you'd like to teach, but the topic is a little blurry and you're not sure if it would sell, join me tomorrow, at 3 p.m. Eastern Time for "60 Days to Build & Sell Your First Course" with Diane Holmes of Mirasee. You'll learn the four requirements that you must have to succeed in online course building, tips on pricing your course, how to attract students, and how to find joint venture partners who will publicize it for you. This is the course that taught me how to create, teach, sell and improve the email marketing course mentioned above. Grab your free seat here.
Tuesday, June 28:
Join me and five other book publishing experts for a free webinar on Tuesday, June 28, for our best book publishing tips. We're the faculty members on the two Publishing at Sea cruises in January to the Caribbean. This free training will give you a taste of what we'll be teaching authors, and what else we'll be doing at sea and on the island excursions. You can register for the free call later. Check out cruise details at PublishingatSea.com. Half the cabins are already reserved.
4. Hound Video of the Week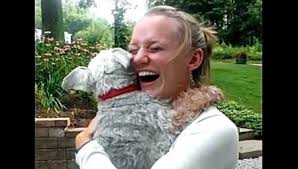 After living and working in Slovenia for two years, Rebecca Ehalt returned home to Pennsylvania in July 2014 and shared a touching video of her reunion with Casey the schnauzer. The dog lets out a series of high-pitched whimpers before passing out from overwhelming joy. No wonder. Rebecca's two-year absence has been over a decade in dog years.