Issue #1209 March 27, 2018
Publisher: Joan Stewart
"Tips, Tricks and Tools for Free Publicity"
In This Issue
What Big Tech Companies Know About You
Free Tool Unrolls Twitter Threads
Use the "Counter-a-Myth" Hook
Hound Video of the Week
This Week in the Hound House:

Even though I swore I'd never join Costco, I just bought a membership over the weekend so I can get a quote on a new furnace and air conditioner. The goodie bag they give new members is filled with cool stuff, including a squeeze container of no-sugar applesauce. Not as good The Publicity Hound's homemade applesauce. But it will do in a pinch.
1. What Big Tech Companies Know About You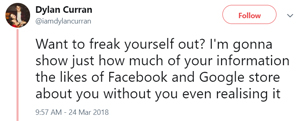 You've tightened your security on Facebook.
You've erased your history of videos on YouTube.
You've removed all those apps that allow you to log into websites with your Google, Facebook or Pinterest username and password.
If you don't want publicity and you'd rather hide in the shadows because you treasure your privacy, you might freak out like I did when it dawns on you how much the big tech companies know about you.
Thanks to Ren LaForme of Poynter.org for sharing a frightening Twitter thread that confirms all of your worst fears about how much of your private information Facebook, Google and other tech companies store.
To do: Read Dylan Curran's Twitter thread here.
2. Free Tool Unrolls Twitter Threads

Poynter's Ren LaForme's helpful email tips included the warning above and a link to a cool tool that makes Twitter threads easier to read.
Thread Reader unrolls them into a no-frills, easy-to-read layout.
"It's great for sharing interesting Twitter happenings with folks who aren't into that type of thing," he writes.
To do: You can see what the scary Twitter thread in Item #1 above looks like by using Thread Reader. 
#TwitterThread #TwitterTool
3. Use the "Counter-a-Myth" Hook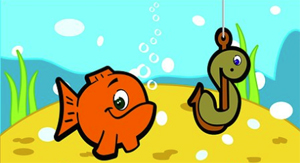 One of other best ways to get the media's attention is to use the "Counter-a-Myth" Strategy.
Here's a sample pitch:
Most of the people I serve believe they need to ________ in order to _____________. But I know from experience this is a false belief.
So my hook could be, "Why you don't have to _________ to _____________."
Example: "Most people I serve believe they need to exercise in order to lose weight. But I know from experience that this is a false belief."
So the hook could be, "Why you don't have to exercise to lose weight."
Steve Harrison recommends you do this at least three times "and odds are you'll have at least one good publicity hook."
The "Counter-a-Myth" Strategy is one of nine hooks you can find in a free PDF he's offering to promote the upcoming National Publicity Summit where you can pitch your story to dozens of journalists, freelancers, and broadcasters. Even if you aren't interested in attending, at least read about Steve's nine hooks and use one of them next time you must pitch but can't think of an idea.
To do: Download the PDF special report 'Make Your Book or Biz Famous: 9 Insider Strategies for Landing Free Publicity on Radio/TV Shows, Newspapers, Magazines and Online" using this affiliate link. 
#FreePublicity #PublicityHooks
4. Hound Video of the Week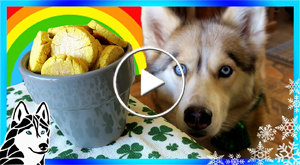 Here are DIY peeps for dogs. No sugar and safe for human consumption. Definitely not for owners who are purists and refuse to give their dogs human food.