Issue #1323 Aug. 27, 2019
Publisher: Joan Stewart
"Tips, Tricks and Tools for Free Publicity"
In This Issue
Weight Watchers App for Kids: Shaming?
Tips for a Video Studio at Home
How to Get Paid to Speak
Hound Video of the Week
This Week in the Hound House:

The first item below reminded me to drag out a few favorite Weight Watchers recipes I love. Tomorrow, I'm making the Sausage, Kale, and Cheddar Frittata. Don't even tell the family or guests it's from a weight loss program. They'd never guess.
1. Weight Watchers App for Kids: Shaming?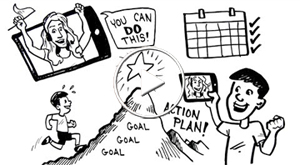 If you're an expert in nutrition, weight loss, kids and teens, healthy eating or parenting, jump on this one for publicity.
WW, formerly Weight Watchers, has introduced Kurbo, an app designed to help kids and teens make healthier food choices. The app was designed with guidance from a group of pediatric and nutrition experts.
The paid program, complete with a coach, starts at $12.25 a week if you commit to six months.
But judging from the nasty backlash on social media, you'd think WW was advocating a diet of only celery sticks and water.
Critics are riled because they claim it "body shames" kids. An online petition calling on WW to remove the app has gathered over 87,000 signatures since Kurbo launched less than two weeks ago. The petition states that it's "irresponsible" of WW to launch an app that could make children develop "life-altering eating disorders that will eventually kill some of them."
Full Disclosure: I've struggled with my weight my entire life. Aside from a few minor gripes, I love WW because it teaches portion control, healthy food choices and the importance of staying active. I'm far more troubled by obese kids accompanied by their obese parents who are pushing shopping carts loaded with fattening snacks, sugary cereals and other junk filled with preservatives and empty calories. Most of these kids don't stand a chance.
What about you? What do you think?
To do: If I wanted publicity on this topic, I'd use the app for one month and record the reaction from my child or teen who doesn't necessarily have to be overweight. Then I'd share the results on social media and pitch traditional media and perhaps suggest ways to put the emphasis on healthy eating and exercise instead of weight loss. TV would love this story because of the visuals. Learn how to pitch this story to the all-powerful "Queen Bee" inside every TV newsroom. This is the person who decides what gets covered and what doesn't. Former TV reporter Shawne Duperon explains the best time of day to call the newsroom, how to sound cool by talking their language, and how to use her pitching formula. Publicity Hound Tom Graber used her tips and got three media hits in only two days, including an in-studio interview on a TV station in Milwaukee. Learn how you can do it too. Get the digital transcript "How to Get on the Local TV News Tomorrow" for half price when you use the coupon code TV at checkout.
#WW #WeightLoss
2. Tips for a Video Studio at Home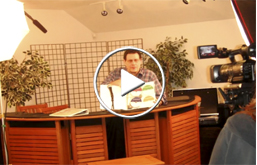 A smartphone and a few pieces of inexpensive equipment are all you need to start creating your own video studio at home.
That's how my mentor, Tom Antion, started out more than a decade ago. Since then, he has added lots of equipment and created five different sets inside the training center he owns next to his home in Virginia Beach. Mentees and other students visit, have their videos shot there.
I'd never attempt anything on that grand of a scale. But I thought you'd be interested in seeing some of the things you can do yourself in your own home, even with limited space, equipment, and money. I love the idea for the "cookies," cardboard cutouts that create attractive backgrounds on the screen behind you when you're shooting a "talking head" video.
Tom admits he's cheap and teaches himself how to build sets and rig up equipment using deeply discounted furniture and other gadgets he finds at big box stores.
To do: Watch the video and steal at least one idea for your own home video studio.
#DIYVideo #VideoTips
3. How to Get Paid to Speak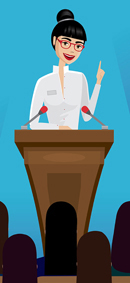 It's difficult convincing a meeting planner to pay you to speak if you aren't famous yet.
But I did it. So can you.
Steve Harrison is hosting a free telephone seminar tomorrow–Wednesday, Aug. 28, called "How to Become a Highly-Paid Speaker As Quickly As Possible – Especially If You're Not Yet Famous." You'll meet six successful speakers who will teach you how to get started in what could be a lucrative field. Register here. 
On the 90-minute call you'll learn:
–How to find companies and organizations that already have a budget to pay speakers like you quite handsomely, even if you're not famous or well-known in your field.
–Why you shouldn't ask for less than $3,000 as a speaking fee even if you're a complete unknown with an ordinary topic.
–How to be well-paid to deliver a spiritual message.
–5 critical steps for landing speaking engagements especially when you don't have a lot of time to spend marketing yourself.
–Why you don't need a lot of fancy materials to land speaking gigs, but what you DO need to give them instead.
–Proven ways to brand yourself and your message in a way that will prompt a flood of requests for speaking engagements.
–What topics organizations are most interested in having speakers address…and much more.
To do: Register for the free call using this affiliate link. Attend live because Steve seldom offers the replays.
#PublicSpeaking #SpeakerTraining
4. Hound Video of the Week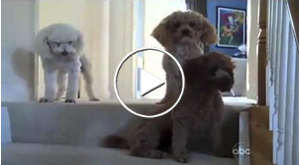 One of my favorites: "Who did this mess?" See if you can guess which of these three poodles is guilty.