Issue #1054 Sept. 10, 2016
Publisher: Joan Stewart
"Tips, Tricks and Tools for Free Publicity"
In This Issue
Website Rant: You Guilty?
15 Free Infographic Templates
How to Hire a Publicist
Hound Video of the Week
This Weekend in the Hound House:

Five gardeners have volunteered to let hundreds of people traipse through their yards on July 8 next year for the Port Washington Garden Walk. I'm the event chairman, and I've had to do  a little arm-twisting to convince some of the best gardeners in the city why they need to participate. All ticket revenue goes toward horticulture scholarships. The hardest part of my job is done. I'm celebrating this weekend by making Tomato Pie, one of my favorite recipes.
1. Website Rant: You Guilty?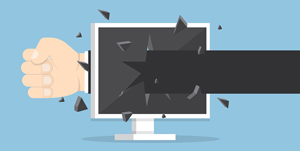 Here are five things about your website that drive people nuts. Visitors include those who want to buy something, or find expert guidance to solve a problem, or journalists who might want to interview you.
Big clunky "eye candy" photos or artwork at the top that force people to scroll down to learn what your website is about.
Those annoying sliders, also known as carousels, at the top of the homepage that feature a series of rotating photos, each with its own message. They change too quickly before the visitor has had time to read them. They're bad for your website. And they're worse for search engine optimization. See "Why Sliders Make Your Website Suck."

No phone number, shipping address or email address on the homepage. Don't hide this under a "Contact" button. And don't force people to use those obnoxious "Contact Us" forms without giving them the option to email you.
No clue that a human being owns the website. Many sole proprietors, authors and experts don't have their photo on their homepage. There's no "About" page either. Often, it's just a cliche stock photo and some crappy copy.
No sign-up box that lets visitors give you their name and email address so they can stay in touch with you.
To do: Guilty? Fix it. Now.
2. 15 Free Infographic Templates

People share infographics on social media three times more often than any other type of content.
If your nonprofit is celebrating a major anniversary, consider creating an infographic that shows statistics like the number of volunteers, donations, how many people you served, and your annual budget.
Publishing an historical novel? Promote it by creating a visual timeline showing what events occurred and when.
Do a side-by-side comparison of two products for people in your niche.
Or create a flow chart that will help your customers decide how to solve a knotty problem.
You don't need to be an artist or start from scratch. Download a package of 15 free #infographics templates, courtesy of HubSpot, the inbound marketing experts. Each can be customized with your choice of color scheme, fonts, design icons and shapes, and theme. Choose from Powerpoint or Illustrator templates.
To do: Download your templates, watch the step-by-step video tutorial, and read more about "How to Make an Infographic in Under an Hour."
3. How to Hire the Perfect Publicist
I'm putting the finishing touches on the second edition of my ebook, "How to Hire the Perfect Publicist." It will be ready for you next week.
A decent publicist costs a minimum $1,500 a month. That's why most people can't afford one and why I started my business teaching people how to promote themselves.
The book explains everything you need to know: when you should hire a publicist, how to avoid the Publicist from Hell, where to find candidates, how they set their fees, questions to ask during the interview, how to check references, and a chart that will help you rank your top candidates.
My readers have contributed horror stories about their own publicists. Success stories too.
The second edition includes four new bonus chapters, including two written by #bookpublicists.
Note: I am not a publicist, and I don't manage people's publicity campaigns. I can, however, show you how to do many of the things your publicist won't have time to do because she's too busy pitching a targeted list of media outlets.
To do: Learn more about how to Rent My Brain for whatever publicity problem is bugging you. Then check back here next week for details on where you can get the second edition of "How to Hire the Perfect Publicity" at a pre-launch discount.
4. Hound Video of the Week
Man's best friend can also be a neighborhood's best playmate. This video of a stray dog helping children jump rope in Brazil is charming the Internet.