Issue #1145 July 29, 2017
Publisher: Joan Stewart
"Tips, Tricks and Tools for Free Publicity"
In This Issue
Use This New LinkedIn Feature
5 Ways Sweet Publicity Can Turn Sour
Sell Books & Products at Festivals
Hound Video of the Week
This Weekend in the Hound House:

We're hoping to can dill pickles today but only if we can visit a local organic farm and pick enough cukes for about 30 jars. If you pick one day and can them the next, the results can be disappointing. Nothing is worse than biting into a pickle expecting a crunch, and ending up with a mouth full of mush.
1. Use This New LinkedIn Feature

Want to let your LinkedIn connections see several photos from one of your recent speaking engagements?
Or show them the fun they missed at your book signing party?
How about introducing a new product with a collection of photos that shows people to use it?
The ability to add multiple photos is now available on iOS, and is coming to Android and desktop soon.
To do: Read more about it in the article, "LinkedIn Provides Capacity to Add Multiple Images in a Single Post" here. 
#LinkedIn #EventPublicity
2. 5 Ways Sweet Publicity Can Turn Sour

Publicity can result in requests for speaking engagements, phone calls from potential consulting clients, and sales of your products and services.
Let's say someone sees someone else talking about you on Facebook. Or they hear you sharing tips on a radio show, and they start looking for your website, hoping to find more tips there. But they can't find your website because it's still being built. Ouch! One more lead down the drain.
Don't go after publicity unless you have a website or a blog that's your home base and a place where people can connect with you. Even if your products are selling well on Amazon without a website, people hunting for you might not think to look there.
To do: That's one of five instances when you want to hold off going after publicity. Read about the other four in my article "5 Times When Oh-so-sweet Free Publicity Turns Sour." 
#FreePublicity #PublicityTips
3. Sell Books & Products at Festivals

Festivals are everywhere these days.
That's why smart product creators and authors buy tables at festivals, wear their best smile, stand (not sit) and talk to everyone who walks by.
Author Raymond Depew, who writes under the pen name R.D. Vincent, markets and promotes his books, primarily at festivals like food festivals and music festivals, even though his books don't have food or music as their main themes. Yet he has sold 31,000 copies of the first five books in his series, mostly to people who don't like to read.
To do: Publishers Weekly ran a fascinating story about how he does it. See "Indie author Finds Success Hitting the Festival Circuit."
#AuthorMarketing #BookMarketing
4. Hound Video of the Week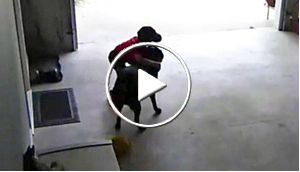 Watch as this boy is caught on a home security camera running into someone else's garage to hug a dog. What will his mom and the homeowner say? Thanks to Publicity Hound Dave Balch of Twin Peaks, Calif., for this one.