Issue #1035 July 5, 2016
Publisher: Joan Stewart
"Tips, Tricks and Tools for Free Publicity"
In This Issue
Use Facebook's Free Ad Space
How to Lure a Media Sponsor
Want National Publicity? Start Local
Hound Video of the Week
This Week in the Hound House:

Back to work after a glorious Wisconsin weekend of visiting the Olbrich Botanical Gardens and the Pink Poodle consignment shop in Madison, BBQ with friends, painting one of my three porches, and fireworks. En route to Madison, we stopped at the Skecher's store and I bought two pairs of GOWalk 3 shoes. After walking three miles with the dog this morning, they may well be the most comfortable shoes I've worn.
1. Use Facebook's Free Ad Space


Before you spend a penny on Facebook ads, use the free ad space available to anyone with a Facebook page.
It's the header photo, 828 by 315 pixels, at the top. This morning, I added "new Facebook header photo" to my to-do list.
Rather than make people hunt for your phone number, include it on the photo.
Don't make them guess what you do or how you can help them. Include a short one-liner that explains how you can help them.
Do you offer free delivery? Weekend hours? Telephone consulting?
You can also use the header photo to build an email list like Melanie Duncan does on her Facebook page, shown above.
Announce a contest. Describe your product. Highlight your fans. Show support for a cause. Promote a new product or an upcoming event.
To do: See examples of how Facebook page administrators did all that in the article "17 Wicked Ways to Use Your Facebook Cover Photo." For more Facebook tips, join us on one of the two "Publishing at Sea" cruises in January to the Caribbean. Virtual assistant Kelly Johnson, a "geek girl" and Facebook whizz, will be teaching beginning and advanced Facebook strategies. Save $150 on a cabin with early-bird pricing through today. Read more about the cruise here. Or call organizer Judith Briles at 303-885-2207.
2. How to Lure a Media Sponsor
Finding a media sponsor can be one of the most powerful ways to attract attendees, donations or volunteers for your fund-raiser or special event.
It can save you thousands of dollars in advertising costs because newspapers, magazines, and TV and radio stations typically donate free ads. A media sponsor will give you credibility.
Choose a media outlet that's a good match. If you're event is business-oriented, consider asking your local business journal or business magazine to partner with you. If your event is for moms, contact the local parents magazine.
Here are three things media partners will want:
Almost all the work to be done by you and your team. You must make it easy for them to say yes.
Names and addresses of everyone who buys a ticket. They will want to market to attendees after the event.
Free tickets they can give to their major advertisers or staff members.
To do: Decide what media outlet best fits your event. Find dozens more tips in "Special Report #36: How to Clinch a Media Sponsorship for Your Find-Raiser or Special Event." Only $7. See the entire list of special reports.
3. Want National Publicity? Start Local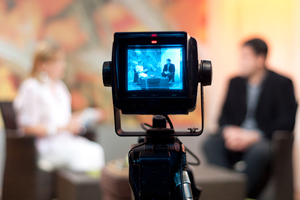 Is one of your publicity goals to appear on programs like "Ellen," "FOX & Friends" and "Good Morning America"?
You could be doing yourself far more harm than good if you don't have experience interviewing on the set of a hectic TV studio in your own community.
Cameras move back and forth on dollies. Studio technicians hold up cue cards for the host. Bright lights shine in your eyes. It's easy to become distracted and blow the interview.
Publicist Michelle Tennant Nicholson says you shouldn't even think about pitching a national show unless you've had plenty of experience first on local shows.
"Make your mistakes–and learn from them!–with smaller audiences to prepare you for the larger ones," she says.
Michelle and her business partner, Drew Gerber, both of Wasabi Publicity, have hand-picked 300 media contacts they use to land their clients in top-tier and medium-tier outlets.
You'll get the list–complete with addresses, phone numbers and email addresses, when you buy their new book, the "21 Day PR Action Guide: The Who, What, When and Where to Launch a Successful PR Campaign."
This 180-page instruction manual, a steal at only $49, walks you step by step through the process of landing media coverage. They're offering the list as a bonus until 11:59 p.m. tomorrow, July 6.
To do: Read Chapter 8: Who You Gonna Call? Your Perfect Media Match at my blog. Then buy the book and complete the assignments. The media love Michelle because her pitches are always on target. Yours will be too. I'm proud to promote this as an affiliate who earns a commission if you buy. If you don't get your media contact list immediately, check your spam folder.
4. Hound Video of the Week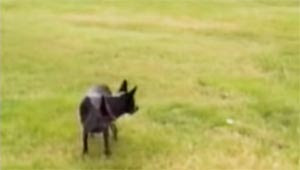 This dogs listens to every command from his owner before getting the ball on the count of three. I wish I had a fraction of this dog's patience.