Issue #972 Nov. 28, 2015
Publisher: Joan Stewart
"Tips, Tricks and Tools for Free Publicity"
In This Issue
Use 2016 Editorial Calendars
Pitch Podcasters
Cyber Monday Special
Hound Video of the Week
This Weekend in the Hound House:

I'm using my iPhone again and don't have to buy a new one after the button at the bottom of the phone got stuck. Jason Saeler, my web guy, had the solution. Rub a dry Q-tip around the perimeter of the button to dislodge oil and dirt. It worked! Within 5 seconds, the phone was working again.
1. Use 2016 Editorial Calendars

Get a jump start on next year's publicity campaign by collecting 2016 editorial calendars of publications, blogs and websites where you want publicity.
Editorial calendars list the topics that will be featured in a specific issue, week or month, and have deadlines for advertising and editorial.
Newspapers and magazines use them, mostly for the benefit of advertisers. But they're helpful if you want publicity because knowing what will be covered when gives you plenty of time to pitch. Only a small percentage of bloggers have them.
Here's how to find them.
Identify an outlet where you want publicity. Call or email the newspaper, magazine, blogger or website.
Or do a Google search, like this: "Milwaukee Business Journal 2016 editorial calendar."
That's what I did. It led me to this calendar.
But you don't want to buy an ad. You want free publicity. Call or email the publication and ask the best time to pitch story ideas for that specific edition, and to whom. Mark your calendar, and pitch. Editorial deadlines are sometimes much earlier than ad deadlines.
2. Pitch Podcasters
Don't forget to pitch podcasters when creating your publicity plan for next year.
Most don't have editorial calendars. You'll have to do your own research and find the ones that are the best fit for you and your topic. Start with the iTunes Podcast Directory. Listen to at least one show to make sure your pitch is on target.
A shortcut: Do a Google search for "top 10 podcasts for…." Chances are good that someone has created a list like that.   
Don't miss Margaret Larkin's two-part series on Podcasting 101 at my blog.  She hosts the Radiogirl Podcast, a media podcast that features interviews with people who work in radio and TV, in Chicago and beyond. She covers everything, from the wide variety of equipment you can use to options for producing and hosting your podcast.
If you have questions, ask them in the comments and she'll help.  See Podcasting for Beginners, Part 1: Equipment That Will Make You Sound Like a Million Bucks.
3.  Cyber Monday Special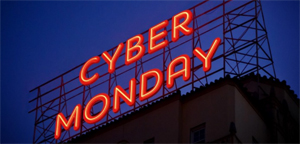 If you've been waiting for a special treat at The Publicity Hound's store, this is it.   
Look for the email reminder fist thing Monday morning to celebrate Cyber Monday. Select from my super-popular special reports or my in-depth 90-minute videos on a variety of topics, and slash the price in half. This is a one-day-only sale you won't wants to miss.
Check details on Monday.
4. Hound Video of the Week
Charlie the Skye Terrier wins Best in Show at the 2015 National Dog Show on Thanksgiving Day. What a cutie!