Issue #1109 March 21, 2017
Publisher: Joan Stewart
"Tips, Tricks and Tools for Free Publicity"
In This Issue
Top 100 Local Online Directories 
Quiz: What Annoys Journalist Most
Push Your Book Over the Finish Line
Hound Video of the Week
This Week in the Hound House:

We were hoping for a St. Paddy's Day baby but little Savannah Leigh, my new great-niece, was about four hours too late when she was born on Saturday in Delaware, Ohio. It'll be wild when I return home this Christmas: nine adults, 2-year-old twin girls, Savannah who will be crawling by then, and Macie the Golden Retriever, who the twins use as a footstool when they want to climb onto the couch.
1. Top 100 Local Online Directories 

Does a big chunk of your business come from your local community?
If so, claim your spot in local online directories. Don't assume that if you prepare federal tax returns in Orlando, a consumer will find you if she types "tax preparers orlando" into Google.
She'll probably find two or three local directories such as Yelp or Thumbtack in the organic, or unpaid, search results before she finds the website of a local tax preparer. Ouch! If you're not in one of those directories, you're competing with the dozens of other businesses listed in them.
Website Magazine has a list of 100 local directories that work hand in hand with local search results to boost your visibility. The Top 5:
To do: See the 95 other sites in the article "Essential Local Directories for Visibility." You don't need them all or even most of them. Some are for niche businesses like home improvements & services, weddings, travel, real estate, restaurants, etc.
#LocalDirectories #FreeOnlineListings
2. Quiz: What Annoys Journalist Most

Which of these six things gall journalists the most?
Not having a press release
Cold calling
Typos in an email pitch
Not knowing their beat
Not including multi-media in a press release
Mailing them media kits or swag
Business Wire, a press release distribution service, surveyed more than 600 journalists in 40 countries to find out exactly how and when they want to be contacted.
They compiled their results in a report you can grab if you're willing to opt in. You'll learn the time of day when experienced journalists prefer to be pitched, how they want to receive breaking news, the two most important pieces of information they're looking for in your press release and lots more.
To do: Grab the free report "Media Matchmaker: A Blueprint to Finding Your Perfect Media Match." Did you guess the right answer to the quiz above? You did if you chose "Not knowing their beat." That problem is easily solved with my training video and big bonus package that teaches you "11 Fast, Free, Easy Ways to Research Journalists, Broadcasters and Bloggers BEFORE You Pitch." Use the coupon code RESEARCH at check-out and save $24.98. Get yours here.
#PublicityMistakes #PRTips #ResearchJournalists
3. Push Your Book Over the Finish Line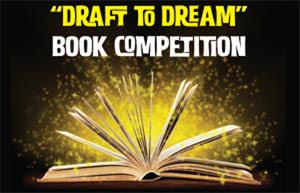 Do you have a book manuscript that's "almost there"? Can you use help publishing and promoting it?
If so, you have until April 15 to enter Author U's "Draft to Dream" publishing competition. Five authors will stagger away with prizes valued at $8,000. One of the five, the grand prize winner, will receive a check for $1,000. Twenty-five finalists will win prizes valued at $700.
Enter in one of five categories: children's, young adult, juvenile, adult fiction or adult nonfiction.
I'm a member of the Author U Board of Directors, and I've been involved in this competition for several years. The early-bird deadline for entries has passed, but I convinced Judith Briles, who oversees Draft to Dream, to let you take advantage of the reduced entry fee if you call her at 303-885-2207 and tell her you're one of my Publicity Hounds.
To do: Read all about the competition, the killer prizes and answers to frequently asked questions. If you win, make plans to come to the Author U Extravaganza Sept. 7 in Denver, where you'll be introduced and celebrated in front of your peers.
​​​​​​​#BookAwards #BookCompetition #DrafttoDream
4. Hound Video of the Week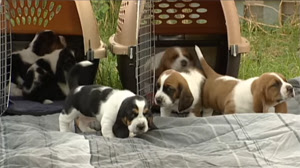 It's the first time outdoors for these adorable 26-day-old Basset Hound puppies. Enjoy!