Issue #1202 March 3, 2018
Publisher: Joan Stewart
"Tips, Tricks and Tools for Free Publicity"
In This Issue
Today: How to Get a Corporate Sponsor
Don't forget Craigslist
Nonfiction Writers Conference
Hound Video of the Week
This Weekend in the Hound House:

We'll be at The Catlow Theater in Barrington, Ill., this weekend for the 2018 Oscar Shorts Fest. The four-hour show features the Oscar-Nominated Short Films in the Animated and Live Action categories. Lots of audience members come to this annual event all spiffed up in their long gowns and bling, just like the celebs do at the Oscars in Hollywood. I'll be the one in jeans and a sweater.
1. Today: How to Get a Corporate Sponsor

Here's one of the secrets to partnering with a large company or nonprofit. They can pay your PR costs and give you exposure far beyond what a $20,000 publicist might be able to do for you.
That's because many of them have giant marketing budgets, their lengthy email lists, consumer research you don't have at your fingertips, and savvy marketing staffs. And if you're an author, speaker or expert, you probably have a ready–made audience-–or the beginnings of one–that will be enticing to a sponsor. Why do they need you? Because they can reach only so many people. If your audience is THEIR audience, they might want someone like you–who your fans already know, like and trust–to promote their brand.
During free training at 2 and 7 p.m. today–Saturday, March 3–Steve Harrison will interview an author/speaker who's landed sponsorships with FedEx, Bank of America, Microsoft, Walmart, Dun & Bradstreet, Wells Fargo and many other companies and organizations.
You'll learn the 14 subject categories for authors and speakers who attract sponsors, fatal mistakes to avoid when approaching sponsors, the five most important elements of a sponsorship proposal, and the exact amounts of money you should ask for (most people ask for too little).
If you've already tried to get a sponsor but you made one of two mistakes, the special guest will explain how to fix it and try again.
To do: Register for "The Top 5 Ways to Attract Corporate Sponsors-–Even if You're Just Starting Out" using my affiliate link.
#CorporateSponsors #GetaSponsor
2. Don't Forget Craigslist

When you sponsor an event, launch a new product, have an open house, take on a new client–anything at all that's newsworthy–don't forget about good old Craigslist.
I used it frequently many years ago, but it's fallen by the wayside as more local news and calendar sites have been popping up. Twice in the past week, I found myself referring to Craigslist: once to look for local events and things to do, and again to sell off some used equipment in my office.
Remember that you can't post the same item in more than one category.
To do: Check out all the sub-categories in the main categories of Communities, Services and Gigs. You'll also find several dozen discussion forums on the Craigslist homepage here. 
#Craigslist #EventPR
3. Nonfiction Writers Conference
The Nonfiction Writers Conference, hosted by Stephanie Chandler, will feature 15 speakers over three days, from May 2-4, and entirely online via teleseminars in the comfort of your home or office.
I'm not speaking at the event this year but I'm donating two hours of my time as an "Ask the Pro" expert. If you register for the conference as a Gold, Platinum or VIP attendees, you can also get a free 15-minute consultation with me worth $75.
The call with me is not a sales pitch. You fire questions at me about any aspect of book marketing or publicity, and I'll answer them. We can cover a lot of ground in 15 minutes.
To do: Take advantage of the 35 percent early-bird discount until midnight March 9. Use the code NOW35 when you register using this affiliate link. 
After you register, Stephanie will send you instructions on how to reserve your 15-minute time slot for our free call. If you're not attending but still need my help, join the hundreds of other Publicity Hounds who I've helped in a Rent My brain session. 
#NonfictionTips #NonfictionMarketing
4. Hound Video of the Week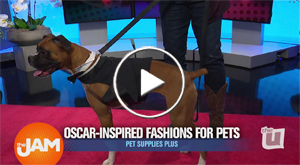 If you're having an Oscars party tomorrow, dress your dogs for the occasion with costumes inspired from Dunkirk, Phantom Thread, Three Billboards Outside Ebbing, Missouri and more!