Issue #1051 August 30, 2016
Publisher: Joan Stewart
"Tips, Tricks and Tools for Free Publicity"
In This Issue
Tips Lists Still in Demand
LinkedIn Supports Hashtags Again
How to Hire a Publicity Intern 
Hound Video of the Week
This Week in the Hound House:

People grieve the loss of their pets in odd ways. When Bogie died last week, and I couldn't sleep, I was up late several nights in a row, watching YouTube videos of German Shorthaired Pointers. They brought peace and solace, especially the videos of cute puppies. I found the most comfort, however, in the hundreds of emails, Facebook comments, stories and photos of your own departed pets, and your condolences. When I receive your messages, I don't feel so alone–just grateful and blessed.
1. Tips Lists Still in Demand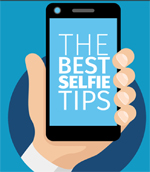 One of the easiest ways to promote your expertise or whatever you're selling is with a good old-fashioned tips list.
Bloggers love them. Journalists do too.
Why? Because time-strapped news consumers devour lists, comment on them and share them. You can't read the stories on Buzzfeed without seeing at least a half dozen list-type article that being with numerals, like this one today: 7 Gene Wilder Movie Moments We'll Never Forget.
Longer lists also go by the trendy name "listicles," short for list-format articles.
I prefer shorter lists, perfect for filling odd-size holes on the page of a magazine or for a TV station to show on the screen when they're reporting on your news story.
Lists are perfect for book and product launches, to publicize special events, or to promote yourself as a subject matter expert.
This Thursday, from 4 to 5:30 p.m. Eastern Time, I'll show you how to create and use tips lists in a publicity campaign. You'll learn about free tools that help create super-fast audio and video lists. Use these multi-media lists in your media kit, press releases and at your blog.
To do: Register for "How to Use Tips Lists to Promote Absolutely Anything."
2. LinkedIn Supports #Hashtags Again

Finally, you can now add #hashtags to articles you post on LinkedIn to make it easier for people to find your content and to make it easier for you to find other people's articles on topics you care about.
Hashtags included in posts are now tappable and lead to search results so that you can discover other posts with the same hashtag. The next time you write an article, add a hashtag within the copy and it will automatically be available publicly. If you'd rather make it visible only to your LinkedIn connections, you can easily change your sharing settings.
LinkedIn is launching content search in LinkedIn iOS and Android apps for English speaking members. In the upcoming weeks and month, it will be available to all members on all platforms.
To read: Read about other ways you can search on LinkedIn in the article "Tap Into Professional Knowledge with Content Search at LinkedIn." Then do what I'm doing. Add hashtags to new articles you're posting and also to the old ones.
3. How to Hire a Publicity Intern

I've gotten several requests on how to hire a PR intern. A few Publicity Hounds say they want to use interns to pitch.
Don't you dare.
If there's one task you should never give an intern, it's pitching. Many college kids can't string a noun and a verb together, verbally or in writing.
To help you, I'm writing a blog post on how to hire and use a college intern.
If you have tips to share about your own experiences using interns, I'd love to hear them. How did you find your intern? What tasks were the best to assign to them? Share the good, the bad and the ugly. And let me know if it's OK to use your story at my blog.
To do: Email JStewart@PublicityHound.com with "Intern tips" in the subject line.
4. Hound Video of the Week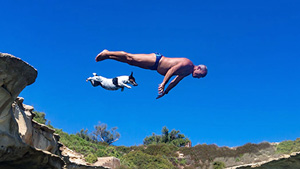 If you want proof that dogs trust their owners, this is it. Meet Titti, The Diving Dog that jumps from rocks with its owner. Thanks to Publicity Hound Sophie Wajsman of Melbourne, Australia, for this one.