Issue #1326 Sept. 17, 2019
Publisher: Joan Stewart
"Tips, Tricks and Tools for Free Publicity"
In This Issue
The Secret Amazon Tool You're Not Using
Your Most Important Press Release Readers
TODAY: How to Court National Media
Hound Video of the Week
This Week in the Hound House:

I can spend hours watching Dominique Sachse's videos. She's the evening news anchor at Houston's KPRC Channel 2. But most of her fans know her as the YouTube sensation who dishes advice on makeup, hair and fashion, especially for women over 40. She recommends we try drugstore makeup instead of buying the expensive stuff. She loves consignment shops, especially for designer clothing. She's funny. She's drop-dead gorgeous. And she has tattooed eyebrows! I vowed that I'd never spend as much time as she does applying makeup until I saw her video "Out the Door in 2 Minutes Makeup Routine."
1. The Secret Amazon Tool You're Not Using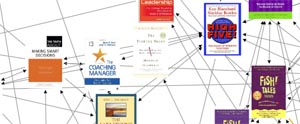 Nine out of 10 people who sell on amazon and rent my brain stand at attention when I show them my favorite Amazon tool that helps sell more books, videos, arts, and crafts or whatever.
It's Yasiv, short for "Yet Another Similar Items Visualization." This simple, free tool shows you similar items based on "Customers who bought this also bought…" data from Amazon. Type in a book title–yours or someone else's. If it has significant sales, Amazon will show you an image resembling a spider web, with lines from that book to other books. Now, choose a title in that second layer and you can follow the trail to see who bought THAT book and so on.
Here are five ways to use Yasiv to sell more from your Amazon store, starting with a product that's similar to yours:
–Call up an Amazon page connected to your product and read the description. How does the sales copy hook the reader? What techniques did the sellers to hook readers?
–How many keywords does the description include? Can some of the same ones in yours?
–Read the reviews. What do the 5-star reviews say about the product? Can you use some of those same phrases in your description? What do the 1-star reviews say? Can you use some of those same phrases to say, for example, "This isn't one of those books that fails to titillate…"
–Go to the sellers' social media accounts and see what kinds of content they're sharing that' related to their product. What topics draw the most comments?
–Who is following those sellers on social media, especially people who are posting lots of comments? Follow them. Share their content.
If you type in your own title to see which books are pointing to yours and you see nothing, it's because you haven't sold enough books on Amazon. But you can still use the data Yasiv delivers to collect data on books similar to yours.
To do: This is just one of dozens of ways to find the target market for your books. If you can't define your market in detail, you can't sell books! Let me help. Reserve a 30- or 60-minute Rent My Brain session. I'll show you the two major ways to define your ideal readers. Then I'll show you where to find them online and offline.
#Yasiv #AmazonTip
2. Your Most Important Press Release Readers
When writing a press release, what's the most important audience you're writing for? Picture the ideal reader, the person who you want to read your release from beginning to end? Who would be most likely to click on the link that takes them to a sales page, or your Facebook profile or a registration page?
I'll bet you're thinking it's a journalist, right? Or a TV producer. Or a freelancer.
They're on my list, certainly. But that's not who I write for. To me, the most important reader is the consumer. Someone who can find the press release after doing a Google search.
That's because I no longer have to go through the media gatekeepers to see results. A press release can pull traffic to my website, move products, sell tickets to events, attract people to my social accounts, and make my phone ring. It can do all those things–this is the kicker–even if a newspaper, magazine, TV or radio station doesn't care about the release. If they cover my news, that's just gravy.
That reminds me, your press release no longer has to be about "legitimate news." You can write about anything.
In my free online course, "89 Ways to Write Powerful Press Releases," I walk you step-by-step through the 7 parts of a press release, show you how to make it search-engine friendly and target the exact types of people you want to reach. You'll see more than 30 press release samples including several "before and after" makeovers so you know how to turn a lackluster press release into one that brings results.
You don't have to give me your name and email address. You can learn at your own speed. Each of the 11 modules goes in-depth on one topic. By the time you're done, you'll know more about press releases than most professional PR people, many of whom are doing it wrong.
To do: Start here. If you like it, share the link everywhere, along with the image above. Your fans will thank you.
#PressRelease #NewsRelease
3. TODAY: How to Court National Media
Here are two free training sessions you don't want to miss.
–Today, at 2 and 7 p.m. Eastern, Steve Harrison interviews media people who decide which authors, speakers, and experts to interview for outlets such as the New York Times, Inc. magazine and CNBC. He will ask them all this question: "If you had a brother or sister who wanted to get a lot of publicity and they asked you for your insider advice, what would you say?" A former Oprah producer will share a simple strategy for using YouTube to get producers to book you, especially if you've never been on TV before. You'll also learn what to do before you contact a national TV producer to increase your odds of getting booked on national TV. Register for "Insider Publicity Secrets National TV Producers & Journalists Would Tell Their Own Brother or Sister" using this affiliate link.
–What could delivering a TEDx talk do for your career? On Saturday, at 2 and 7 p.m. Eastern, you'll hear from Geoffrey Berwind about the secrets of not only getting a booked for a TEDx talk but also delivering a really great one. Landing a TEDx gives you immense credibility. Even if you think you aren't ready yet to deliver a TEDx talk and need more experience speaking to groups, register anyway. You'll learn why a "signature story" is important for your speaking career, 5 of the most important things every speaker should know about storytelling, and 3 ways you can instantly improve any talk you give. Register for "3 Secrets to Landing a TEDx Talk (And Other Tips for Being a Successful Speaker," hosted by Steve Harrison, using this affiliate link.
#NationalPublicity #TEDx
4. Hound Video of the Week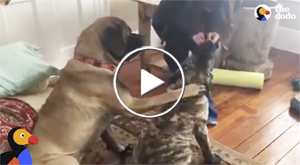 Robin and Daniel Baldwin share this hilariously cute video of their 1-year-old English mastiff, Rufus, showing his 4-month-old brother, Jet, how to sit, so they can both earn more treats.