Issue #1241 July 17, 2018
Publisher: Joan Stewart
"Tips, Tricks and Tools for Free Publicity"
In This Issue
The Press Release Mistake I Made
If they Want One Photo, Give 'em Three
Use Amazon to Research Magazines
Hound Video of the Week
This Week in the Hound House:

Tomorrow I'll stand in mile-long line to buy a bushel of fresh Georgia peaches from the Tree-ripe Citrus Co. truck that will roll into town for one day. I'll split it with my girlfriend. I'll make peach cobbler, freeze some, can some, and give some to the neighbor who let me use his live trap to catch the groundhogs. I was amazed to learn how many peach trucks are out there, rolling through the United States this time of year. Google "peach trucks" and see if there's one near you.
1. The Press Release Mistake I Made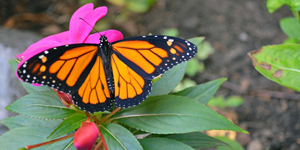 You CAN teach an old Publicity Hound new tricks.
The publicity I generated for my Garden Club's Garden Walk on Saturday pulled more than 380 people for a tour of six jaw-dropping gardens on the shores of Lake Michigan. Here's a sample from our weekly newspaper that included two more photos and a sidebar in the printed edition. We were thrilled when we tallied the final attendance figures.
All the gardens were on one street, within walking distance.
Visitors raved about how well-organized it was. They appreciated the free shuttle bus that took them from the parking lot at the local migratory preserve to the neighborhood just a few minutes away. They loved that all the expansive gardens included a variety of trees and flowers they never knew existed.
But one comment we heard over and over again convinced me that I left out a valuable piece of information from the press release.
People said they wished they had known that the gardens were so big because they could easily have spent several hours on the tour.
Once they started touring, they realized they could relax on benches overlooking Lake Michigan. They could even learn how to raise Monarch butterflies from the exhibit created by one of the homeowners whose garden is a registered waystation for the colorful insects. But visitors had to cut the tour short to get to their next appointment.
To do: When you publicize an event, let people know how much time to set aside, especially if you're hosting a self-guided tour like ours.
#EventPublicity #EventPR
2. If They Want One Photo, Give 'em Three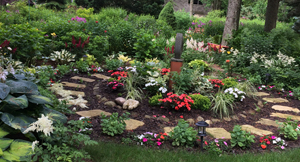 Now let me tell you about a simple move I made that got my Garden Walk many more column inches of publicity.
The other weekly paper in my county asked for "one or two photos" a few weeks before the Garden Walk. I let the editor have a choice of photos and sent three.
Surprise! All three photos appeared with the press release, giving us way more column inches of publicity than I would have gotten if I had sent only one photo.
To do: Give the media a choice but don't overwhelm them. Offer three photos, not one. When I pitch a guest blog post, I pitch three ideas.
#EventPublicity #EventPhotos
3. Use Amazon to Research Magazines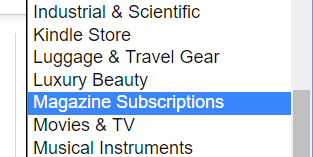 The next time you're looking for magazines to pitch, head over to Amazon.
Let's pretend you're looking for magazines on my favorite topic: gardening. Click on the drop-down area to the left of the search box and go to "Magazine Subscriptions." Type in your topic.
I found 10 pages of magazines on gardening! When you see one you want to pitch, go to their website and look for contact information for staff editors and writers, "how to pitch" information, a place where you can upload press releases, the magazine's editorial calendar, a blog, etc. If you can't find digital copies, see if your library carries the magazine, or call the magazine and buy one or two issues.
To do: My training on how to get magazine publicity will save you weeks of time researching and figuring out how to pitch. It includes tips on the sections of the magazine that are most hungry for your news. Knock $24.98 off the price of the how-to video and other bonuses when you use the coupon code MAGAZINES at checkout. Order "How to Find Your Way into Glossy Magazines." 
#Magazines #MagazinePublicity
4. Hound Video of the Week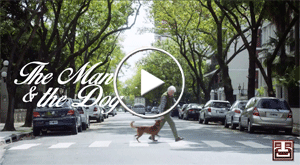 Thanks to Publicity Hound Tracey Bennett of Honolulu, Hi., for this video that shows the undying loyalty of a dog. Get the Kleenex.