Issue #1027 June 7, 2016
Publisher: Joan Stewart
"Tips, Tricks and Tools for Free Publicity"
In This Issue
Take This to Your Next Photo Shoot
How to Break into Hollywood
Target Alternative News Weeklies
Hound Video of the Week
This Week in the Hound House:

My bedtime reading this week: Euclid Beach Park is Closed for the Season. It documents the history of one of my favorite childhood memories: a wholesome amusement park on the shores of Lake Erie in Cleveland, Ohio, where my Dad's company had a summer picnic in the 50s and 60s and. Wonderful video of roller coasters, popcorn balls and nostalgia here. What's your favorite amusement park?
1. Take This to Your Next Photo Shoot
You've hired a hair and makeup artist and bought a killer outfit for your professional photo shoot.
But when you see the proofs, you're mortified. In your favorite shots, your face looks oily. Why didn't the photographer notice this?
It wouldn't have happened if you had used Oil Absorbing Sheets. They're small, inexpensive sheets that mop up the sweat and oil on your face without smudging make-up. Guys need these too.
To do: Watch the video above and see me demonstrate how quick and easy it is to look your best. How about sharing the video in your author, speaker and PR groups on LinkedIn and Facebook?
2. How to Break Into Hollywood
Dying to turn your novel into a screenplay? Break into the world of gaming? Or sell an idea for a TV pilot to Hollywood?
The landscape of worldwide storytelling, in every medium, is shifting dramatic–all a result in the leaps of technology.
What this means for you as a writer is that the rules have changed.
You can no longer hope for a studio to just pick up your script or for a pitch to be your big break.
(Virtually) Everything Story is the first of its kind, an online story conference that gathers top industry experts, including me, from all the major arenas of storytelling.
If you're a screenwriter, novelist, filmmaker or storyteller of any kind, this is for you. You'll learn how to master and break into your arena of choice and also how to move into the the fresh and exciting scene of game creation, virtual reality and webseries.
The online conference between June 14-24.
To do: Drool over the lineup of speakers and topics and register here.
3. Target Alternative News Weeklies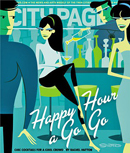 Add alternative media to your pitching opportunities.
The Association of Alternative NewsMedia offers a long list of news weeklies, links to their websites, phone numbers and circulation figures.
This is how the AAN describes what it covers:
"There are a wide range of publications in AAN, but all share these attributes: an intense focus on local news, culture and the arts; an informal and sometimes profane style; an emphasis on point-of-view reporting and narrative journalism; a tolerance for individual freedoms and social differences; and an eagerness to report on issues and communities that many mainstream media outlets ignore. AAN members speak truth to power."
To do: See which papers are best for your local news. Learn the "11 Fast, Free, Easy Ways to Research Journalists, Broadcasters and Bloggers BEFORE You Pitch." It's half-price today through Thursday, June 9. Bonuses include 6 ways you can suggest journalists stay in touch with you (so they contact you again!), a cheat sheet of 11 things you can offer them periodically, regardless of whether they've covered you, and a checklist of 7 pitching tips (keep this in front of you and refer to it every time you pitch). Use the coupon code RESEARCH at check-out, click on apply and recalculate. Order here.
4. Hound Video of the Week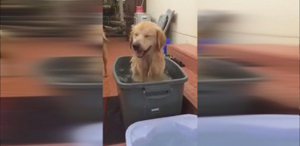 On a hot day, Ken the Golden Retriever can think of nothing better than to hop in a tub filled with cool water and splash around. Thanks to Publicity Hound Christine Buffaloe of Serenity Virtual Assistant Services for this one.