Issue #1320 Aug. 6, 2019
Publisher: Joan Stewart
"Tips, Tricks and Tools for Free Publicity"
In This Issue
Strengthen Your Stand on Sticky Issues
Free Tool Saves Time on YouTube
Thursday: How to Book a TEDx Talk
Hound Video of the Week
This Week in the Hound House:

The Publicity Hound will be in the theater Friday night for the opening of "The Art of Racing in the Rain," based on the best-selling novel about a dog and a race car driver. Garth Stein's heartfelt tale is narrated by Enzo, a philosophical dog, and voiced by Kevin Costner. I loved the book but I'm not getting my hopes up. So far, the movie has earned a paltry 64% on Rotten Tomatoes. Reviewers have called it "deeply dull" and a "doggone mess."
1. Strengthen Your Stand on Sticky Issues

Gun control. Illegal immigration. Free college. Medicare for all. Vaccines for kids. Medical marijuana.
They're all red-hot issues, perfect for newsjacking and taking a stand. Whether you're writing an op-ed, pitching a guest post to an influential blogger or contacting a journalist to offer yourself as a source, include persuasive facts to bolster your argument.
Save time by using the website ProCon.org, a nonpartisan 501(c)(3) nonprofit public charity supported by donations. Click on a topic and you'll see a side-by-side display of facts and arguments for or against your issue, with sourcing footnotes.
Topics are grouped in the following categories:
Health & Medicine, Education, Politics, Science & Technology, Elections & Presidents, World/International, Sex & Gender, Entertainment & Sports, and Economy & Taxes.
This site is perfect for publicity seekers, students and teachers, authors researching an issue, and speakers who want to support their positions.
To do: Bookmark ProCon.org and return when you need solid facts to promote your expertise. And remember to insert a statistic or compelling fact when pitching. Publicity Hound Mary Castillo wrote this after participating in my webinar "A Simple 5-Part Formula for Delivering the Perfect Media Pitch and Hitting it Out of the Park": "Right after I took your workshop yesterday, I used your technique pitching a new website designed by my client. Within 15 minutes I had two confirmations from reporters that they would be running the story, and interest from a radio show that I've tried to get my client on for a year." Knock $24.98 off the price when you order it here and use coupon code "pitch" at checkout.
#guncontrol #illegalimmigration
2. Free Tool Saves Time on YouTube

Smart Publicity Hounds have YouTube channels that pull traffic to videos and then to their websites.
But uploading videos the effective way, with full descriptions and keywords, takes a lot of time.
My assistant, Christine Buffaloe, loves TubeBuddy, a free browser extension that integrates directly into YouTube to help her manage her clients' channels with ease.
"I currently use the free version but it gives me access to everything I need," she says. That includes:
An Upload Checklist
A Quick Edit Toolbar
A Quick Links Menu
Notification Commenting that lets you reply to comments directly from the YouTube notification window.
An Emoji Picker
An Advanced Video Embed feature
To do: Read more about all the ways you can save time on YouTube in her article "TubeBuddy: My New Best Friend." 
#VideoTool #YouTubeTool
3. Thursday: How to Book a TEDx Talk

During free training on Thursday, you'll learn two key facts about the stiff competition you face if you want to give a TEDx talk:
First, most TEDx organizers are flooded with applications from far more would-be speakers than they can accept. Plus, many only accept those based on very narrow criteria, such as being associated with a given university.
Second, the quality of the video you'll get from your TEDx talk varies dramatically depending on the organizer – which is a huge problem, since coming away with a really compelling, well-edited video on YouTube is the biggest payoff of your talk. A not-so-great video might be worse than none at all.
Join Steve Harrison on Thursday, Aug. 8, as he interviews Geoffrey Berwind about the secrets of not only getting a booked for a TEDx talk but also delivering a really great one, as well as other insights for advancing your career as a speaker. The free training will be offered at 2 and 7 p.m. Eastern Time.
Even if you think you aren't ready yet to deliver a TEDx talk and need more experience speaking to groups, register anyway. You'll learn why a "signature story" is important for your speaking career, 5 of the most important things every speaker should know about storytelling, and 3 ways you can instantly improve any talk you give.
To do: Register for Thursday's free training on "3 Secrets to Landing a TEDx Talk (And Other Tips for Being a Successful Speaker" using this affiliate link. This was offered in June but so many people were on vacation that Steve has scheduled it again.
#TEDx #SpeakerTips
4. Hound Video of the Week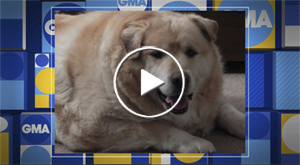 Meet Kai, the Golden Retriever in Alberta, Canada, that lost 100 pounds and ended up on "Good Morning America."