Issue #1308 May 7, 2019
Publisher: Joan Stewart
"Tips, Tricks and Tools for Free Publicity"
In This Issue
Start a Hall of Fame
My Favorite Title Generator is Live Again
Missing Contact Info
Hound Video of the Week
This Week in the Hound House:

I love turkey burgers and trying to find time to make Food Network star Anne Burrell's Killer Turkey Burger Recipe. It calls for ingredients I'd never think of using in a burger: Sambal Oelek or Asian chili paste, fresh ginger and water chestnuts. I'll let you know how I like it.
1. Start a Hall of Fame
When I heard that my friend Judith Briles had started the Colorado Authors Hall of Fame, I knew it was a fabulous opportunity to generate publicity galore for authors from The Centennial State.
That's because smart authors who are inducted will be working their Publicity Hound tails off generating publicity for the honor. I'm betting some of them will get feature stories in the local daily and weekly newspapers. They'll be interviewed by their local TV stations.
They can write press releases and submit them to their alumni publications, their industry newsletters and share the honor all over social media. Of course, every nugget of promotion for an author will probably include the title of at least one of their books.
Anyone can create a Hall of Fame, even you.
When Publicity Hound Karla Kinstler of the Houston Nature Center in Houston, Minn., read my tip about creating a Hall of Fame back in 2005, she knew it would be a perfect opportunity to promote the center's annual Festival of Owls. The center created the World Owl Hall of Fame. The first year, the Oregon Associated Press picked up the story when Fat Broad, an owl in Oregon, was inducted.
You can tie a Hall of Fame to any product, service, cause or issue.
To do: If you can't think of a tie-in, let The Publicity Hound help you. Readers have been asking if I'd consider offering a half-hour Rent My Brain session for Hounds who don't need a full hour. Of course! Go here and book either 30 minutes or 60 minutes with me. When your order arrives, I'll be in touch to schedule a time and date that works best for both of us.
#HallofFame #BookMarketing
2. My Favorite Title Generator is Live Again

If you've played with the free Tweak Your Biz Title Generator tool, and then discovered it missing, I have good news.
When the company that created the tool was sold, the new company removed the tool, and my heart broke. It's live again!
This is my #1 tool for generating titles for articles, blog posts, products, White Papers, etc. Try it. You'll like it.
To do: You can find it here. 
#TitleTool #HeadlineTool
3. Missing Contact Info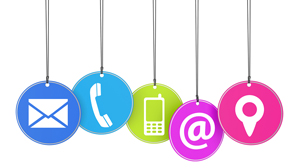 Right now, go to the homepage of your website and see if a visitor can find your shipping address, phone number, and email address–without clicking the mouse or tapping the screen.
No? You might be losing sales.
Don't assume everyone is patient enough to click on the "Contact" navigational button for that valuable information. Those contact forms are fine, but you need to give people the option of contacting you through their email program. Many visitors are skeptical like I am when they see those forms. I've filled out lots of them, never to hear back from the website owner.
To do: You can't give people too many ways to contact you. My friend, Judith Briles, has the best contact page I've seen, with the phone, email address and shipping address in the lower right corner of every website page.
#ContactInfo #ContactForm
4. Hound Video of the Week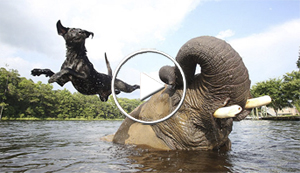 Some people love to swim with dolphins. This dog, Bella, loves to swim with an elephant—Bubbles to be exact. She uses Bubbles as a staircase and even a diving board. Stay to the end to read the heart-warming story of how these two best friends met. Thanks to Publicity Hound Tracy Bennett of Honolulu for this one.