Issue #1098 Feb. 11, 2017
Publisher: Joan Stewart
"Tips, Tricks and Tools for Free Publicity"
In This Issue
Share a Fun Fact About You
How to Write Real Fast
Want to Teach Online? Call Me
Hound Video of the Week
This Weekend in the Hound House:

I've never seen the hit drama series "Downton Abbey" on PBS. But my girlfriend has. She got the entire DVD set for Christmas. This afternoon, we're hunkering down with a big bowl of gourmet popcorn and watching the first six episodes–if I don't fall asleep. I drove another friend to the airport for a 6 o'clock flight this morning.
1. Share a Fun Fact About You
When journalists, bloggers or casual visitors arrive at your website, surprise them with a list of "5 Fun Facts You Didn't Know About Me" in your media kit.
Here's one of mine.
Fifty years later, I still know all the words to the Talent Roundup Day theme song the Mouseketeers sang every Friday on the 1950s TV show "The Mickey Mouse Club." Click on the photo above and you can watch them sing. Picture me dancing around the living room with my pretend pony.
Why fun facts? Because most business bios are more potent than sleeping pills.
Fun facts show your personality. They beg to be added to stories journalists are writing about you.
Radio and TV talk show hosts can steal fun facts and turn them into questions for interviews.
To do: Create your own list of fun facts by using the checklist of questions at the end of the article I wrote on "5 Fun Facts You Didn't Know About Me." I'm now a regular contributor to Joel Friedlander's blog, The Book Designer, and I'll be linking to those articles from these tips. How about sharing your best "fun fact" in the comment section at his blog?
#authorbio #mediakit #businessbio
2. How to Write Real Fast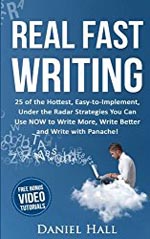 PR, promotion and publicity require the ability to write mountains of copy–or hire someone to write for you. But that can cost a fortune.
If you struggle with writing, and even if you think you're pretty good at it, I have the perfect tool for you.
It's Daniel Hall's new book, "Real Fast Writing." The subtitle tells it all: "25 of the hottest, easy-to-implement, under the radar strategies you can use now to write more, write better and write with panache."
"Real Fast Writing" is a real fast read. I zipped through the 99-page book during an airport layover when I was returning from my recent Publishing at Sea cruise.
My favorite was Tip #14: Borrow expertise. "Interview an expert, ask probing questions. Record and transcribe the conversation. Use as a starting place for your writing."
I'm a writing coach, and I picked up three new writing tricks that I'm teaching to mentees in The Publicity Hound Mentor Program. Daniel also includes links to video tutorials if you need more help.
To do: Buy the paperback ($12.99) or Kindle Edition ($9.99) here and use my affiliate link.
#writefast #writingtips
3. Want to Teach Online? Call Me
I've been promoting Danny Iny's "Course Builders Laboratory," the excellent training that walks you step by step through the entire process of building a course from start to finish–one you can sell over and over again.
It's a big investment, and it isn't for everybody. If you're toying with the idea of teaching online but you're not sure if this is for you, and you have questions, feel free to call me this weekend. You can ask me about my experience with it. Registration closes at midnight Sunday night.
To do: Write a list of questions and call 262-284-7451. I promise to call back.
#onlinecourses #teachingonline #coursebuilderslaboratory
4. Hound Video of the Week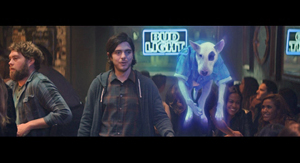 Spuds MacKenzie, Bud Light's popular but controversial "original party animal" from the 1980s, made a comeback — as a ghost!