Issue #1007 March 29, 2016
Publisher: Joan Stewart
"Tips, Tricks and Tools for Free Publicity"
In This Issue
Puppy Play Dates with the Editor
YouTube to Compete with Periscope
Wanted: Your Press Releases
Hound Video of the Week
This Week in the Hound House:

When I lived in Ohio, where cardinals are the state bird, spotting them was rare. Here in Wisconsin, I see them daily at the feeder outside my kitchen window. Yesterday, I counted seven of them. But by the time I found my camera, they were gone.
1. Puppy Play Dates with the Editor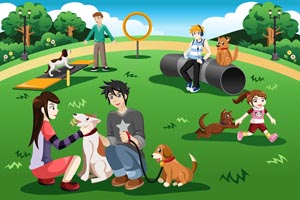 Can you imagine being such good friends with an editor that she accepts your invitation to go on a puppy play date with you at the local park?
Nicole Fallon Taylor, assistant managing editor at Business News Daily, says that's what she's willing to do for a handful of PR pros who are not only valuable business contacts, but friends.
The best PR people, she says, check in with her monthly to find out if they can help with stories she's covering. They commit to memory the topics she covers. Before pitching anything, they research her recent articles. And they're interested in building genuine relationships.
In an article on her LinkedIn profile, she writes:
"These are the people who ask me about my interests outside of work, comment on something funny I shared on social media, and talk to me without constantly trying to pitch me something. If they're in the area, I'm always happy to meet these people for coffee, drinks or even puppy play dates, because even though we're professional contacts, it never feels like work to help out a friend."
These relationships sometimes take months or even years go solidify. But if you what the best PR people do, you'll get the publicity you need–and maybe an invitation for a puppy play date.
To do: See Nicole's article "What PR Pros Are Doing Right." Then start using social media first, before you email anything, to build the relationship. I show you how in the video "How to Use Social Media to Connect with Journalists." Learn six phrases they love to hear, two ways to find journalists on LinkedIn within seconds, how to find personal details about a journalist that you can weave into a pitch, and more. Regularly $49.95, you can grab the entire package for half price when you use the coupon code RELATIONSHIPS (Apply and Recalculate) at checkout but only if you order before midnight Thursday night here.
2. YouTube to Compete with Periscope
Periscope, the live streaming app that lets you record your own shows on your Apple or Android devices, might face stiff competition from Google which has been building its own live streaming app called YouTube Connect.
It has much of the same functionality as Periscope and Facebook Live, including chat and tagging features.
What this means to you:
It will be easier than ever to create videos for your YouTube channel or an entire series of shows, like publicity expert Roshanda Pratt, pictured above, has done with #TheRoShowLive. She uses Periscope to record, and uploads the videos to YouTube. With YouTube Connect, you'll be able to create and publish to YouTube using only one app.
During your show, you'll be able to interact with your fans in real time at events like book signings, speaking engagements and trade shows.
To do: Not sure how you'd use a live streaming app? See my "23 Periscope Ideas for Authors, Speakers and Experts."
3. Wanted: Your Press Releases
I'm updating the free email course, "89 Ways to Write Powerful Press Releases" that fell by the wayside when I moved my website to WordPress several years ago. I'm looking for new press releases to feature as samples.
If you've written a release that you use along with a customized pitch, or one that has gotten publicity for you, I'd like to see it. So would thousands of other Publicity Hounds who will take this free course. If I like it, I'll get in touch with you.
To do: Email the release to me at JStewart@PublicityHound.com
4. Hound Video of the Week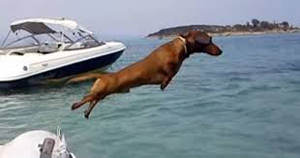 Little Spithas is the man! The fiery Dachshund from Greece is on vacation!