Issue #1166 Oct. 17, 2017
Publisher: Joan Stewart
"Tips, Tricks and Tools for Free Publicity"
In This Issue
Press Releases vs. Pitches
The Closest Thing to a Human Editor
More Book Hooks
Hound Video of the Week
This Week in the Hound House:

Packer Nation is in mourning now that quarterback Aaron Rodgers will most likely be out for the season with a broken collarbone. That hasn't diminished my love for the game, the team or my Cheesehead hat.
1. Press Releases vs. Pitches

You have an idea for a story that will generate free publicity for your company or nonprofit, a product or a service, or a book you're launching.
Your first temptation is to write a press release. But you know press releases are often ineffective for getting a major story. Customized pitches to specific journalists and bloggers, however, often go unanswered.
So what do you do? Take your chance on a press releases or on a pitch?
The decision is important because each has its own purpose. If you choose the wrong one, you can miss your chance at publicity.
A two-part series at my blog explains the key differences between press releases and pitches, when you should and shouldn't use each, and when to use both.
To do: See "The Pros and Cons of Press Releases vs. Pitches."  There's a link at the bottom to  "When to Use a Press Release and When to Deliver a Pitch." Questions? Type them in the comments and I promise to answer them.
#PressReleases #PROutreach
2. The Closest Thing to a Human Editor

If you've written a blog post or an article and you'd like someone to critique it and help you improve it, but you don't know who to ask, do what I do.
Use the Hemingway App. It's a super-fast, super-easy online tool that will tell you, within a few seconds, how to improve your writing.
It will also tell you what grade level a reader must be at to understand what you've written. You want the lowest grade level possible.
To do: To get started, highlight the copy on the screen and paste in your own. Then click the "Edit" button on the top right of the screen. Or click on "Write" and you can write directly on the screen.
#writingtip #copywriting
3. More Book Hooks
Don't promote your book first. Promote your expertise.
Fiction authors struggle with this and proclaim, "I'm not an expert at anything."
It's time to become one! If you write Civil War novels, become an expert on a related topic like Civil War clothing or the Confederate flag. If you write romance novels, become an expert on a sub-topic like dating after the death of a spouse.
Study your topic, become smarter, then start applying it to things such as public speaking, starting a Facebook group or answering questions online. Promote yourself as an expert and make that a cornerstone of your publicity campaign. Promoting expertise is a super book hook.
To do: Read about the seven mistakes authors make and register for my training session on Wednesday with the folks at Bublish. It's on "19 Killer Ideas to Supercharge Your Book Publicity Campaign!"
#BookAngles #BookHooks
4. Hound Video of the Week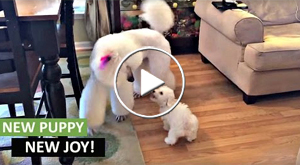 Watch this cute little poodle puppy tease and taunt a poodle five times its size.