Issue #1175 Nov. 21, 2017
Publisher: Joan Stewart
"Tips, Tricks and Tools for Free Publicity"
In This Issue
Powerful App for Google Reviews
Use Subheads to Guide Readers
Where to Find Illustrators
Hound Video of the Week
This Week in the Hound House:

I've gotten several invitations to join friends for Thanksgiving dinner but I'm spending it at home alone. I'm on the tail end of a bad cold with a lingering cough, and I don't want anyone to catch this. Happy Turkey Day to you and yours.
1. Powerful App for Google Reviews

When my 30-year-old furnace pooped out yesterday, I called Professional Heating & Cooling in Port Washington, Wis., where I live, after seeing 22 five-star reviews online.
Within 10 minutes, two technicians showed up to analyze the problem. By 5 p.m., the new furnace was installed and running.
I kept raving about their service and told them how impressed I was at all the gushing reviews. Before they left, they sent a Bitly link to my mobile phone. I clicked on it and was able to write a review right from the phone, while I was still excited about the top-notch service I'd received. Most other businesses just ask me to write a nice review, but I almost always forget.
The furnace guys used an app called Nearby Now for contractors and service professionals. It's free for the first 30 days and offers three paid subscription levels after that, from $39 to $149 a month. Consider: It took me just a new minutes, after seeing those reviews, to give them $2,800 worth of business. So for them, the subscription was money well spent.
If you're like me, you take the time to study online reviews: a type of free publicity far more powerful than paid ads.
To do: Read about all the cool features of the Nearby Now app, and tell your favorite service providers about it.
#GoogleReviews #BestApps
2. Use Subheads to Guide Readers
Which kind of online reader are you?
The kind that digests every word on a page? Or are you a scanner, like me, who looks for verbal clues like subheads to determine whether to keep reading?
If your blog posts, articles, sales copy and website copy don't use subheads, you're missing the chance to pull people like me straight through to the end.
That's because subheads act as road signs to entice scanners. They signal to readers "Here's what comes next" or "Here's why this is important."
To do: Check out Cision's helpful infographic of "12 Do's and Don'ts for Optimizing Your Content."
#SEOTips #OptimizeContent
3. Where to Find Illustrators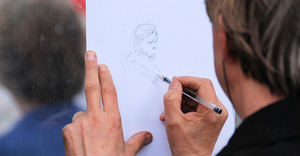 You need an illustrator, a cartoonist or someone who knows how to create a spiffy infographic.
You look where most other people look: on Fiverr.com, the site where it's next to impossible to buy anything decent for only $5 because of the numerous upsells from service providers. Besides, if you're an author who needs an illustrator for, say, a children's book, Fiverr is the last place you should be looking because the site caters to people on a tight budget. Don't cut corners on a book illustrator.
For every Publicity Hound who has found Fiverr a goldmine, someone else has been burned.
Know what you need before you start looking. Do you want an illustrator, cartoonist, comic artist, typographer or title designer, cartographer or map maker, or a graphic artist?
To do: Learn which is which, where to find them, and the three errors to avoid when hiring one. See Kat Vancil's article "The Quest for Illustrators, Cartoonists and Other Creative Professionals."
#Illustrators #BookIllustrators
4. Hound Video of the Week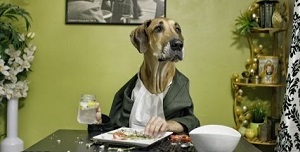 This one's a little messy, but in honor of Thanksgiving, here's what a talking dog dinner party looks like.