Issue #1184 Dec. 23, 2017
Publisher: Joan Stewart
"Tips, Tricks and Tools for Free Publicity"
In This Issue
Pitching? When to Give Up Control
6 Best Ideas for Live Streaming
Grab My "Best of 2017" Ebook
Hound Video of the Week
This Weekend in the Hound House:

I'll be with my family this weekend, doing the things we love to do at Christmas: riding around looking at the Christmas lights, playing Pictionary, a game or two of chess with my nephew, adoring our three little girls, laughing over old family photos, and being grateful we're with each other. I'm taking a short break and I'll see you back here Dec. 30. Lots of love from my family to yours.
1. Pitching? When to Give Up Control

Don't assume that when you pitch a story idea, the journalist will let you know if he'll cover it. Often, it's a frustrating waiting game, even for professional PR people.
Nagging the reporter won't get you anywhere. Neither will constant follow-ups.
That's the lesson from Hollie Geitner, VP of client services for Wordwrite Communications, a Pittsburgh PR firm. Holly advises that after you've done everything you can to help a reporter who you've already established a relationship with, you must let go.
"As recently as this month, we were tested when we pitched a story on behalf of a client and sent it to a reporter we've worked with for several years," she said. "He wrote back and said he'd love to cover it, and he'd speak to the client after Thanksgiving. I sent him a list with full contact information and the client's availability. He said that was great and he'd contact them but he didn't. I was starting to get nervous."
Turns out the reporter, from the Pittsburgh Post-Gazette, interviewed the client and arranged for photos to be taken.
"About two weeks later on a cold Sunday morning, we saw it. Front page, Business section, a beautiful story about the company we'd pitched, complete with a photo. The next day, the same story was posted on the paper's website."
The takeaway?
"Sometimes you just have to let it go," Holly says "Resist all urge to control and simply trust. Trust that you've done a good job in preparing and trust in the reporter doing his/her job to the best of their ability. There is no 'secret media relations tip to guarantee coverage."
To do: Read her entire article about this lesson in Wordwrite's January newsletter. Then download the firm's media relations guide, "Five Steps to Building Meaningful Relationships with Reporters." t's a super-quick quick read.
#MediaRelations #PR
2. 6 Best Ideas for Live Streaming

Study after study shows that as many as 8 out of 10 consumers would much rather see a video than read an article about your brand.
Those videos include live streaming, which has become one of the most powerful marketing and promotion tools simply because it's so darn easy. All you need is a smart phone, a social media site and decent content. Here are the six best reasons to use live streaming to build an audience and promote, courtesy of Filmora, the video editing experts:
1. Customer service
2. Updates, Announcements or Demos/How-to
3. Ask Me Anything/Q&As
4. Live events
5. Behind the scene
6. Interviews
To do: Check out the excellent infographic "Marketing Tips for Live Streaming on Social Media." Learn which social media sites are the most popular, and study the in-depth demographics info that will help you determine which live streaming site is best for you.
#livestreaming #socialmediamarketing
3. Grab My 2017 "Best of" Ebook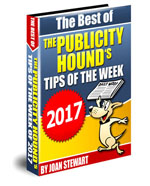 If you haven't had a chance to download my free ebook, "the best of the Publicity Hound's Tips of the Week of 2017," don't wait.
The book includes two dozen of the best tips from this past year, and it's ideal for regifting. Most highlight free or inexpensive PR and publicity tips, tools and techniques that will help you self-promote on a shoestring budget.
To do: Grab the ebook here and share this link: https://publicityhound.com/blog/best-of-2017.
#MediaInterviews #MediaTraining
4. Hound Video of the Week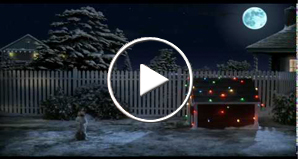 This is what dogs do on Christmas Eve. Adorable!.