Issue #1118 April 25, 2017
Publisher: Joan Stewart
"Tips, Tricks and Tools for Free Publicity"
In This Issue
Pitching? Don't Skip This Step
Thursday: More on Pitching
YouTube Deadline in 7 Days
Hound Video of the Week
This Week in the Hound House:

I was planning to tell you about my Liquidation Sale today at prices more than 90 percent off. But I keep finding so many learning tools to add to topic-specific bundles, that I'm holding off for another week. I'm also adding a bonus package for anyone who invests in these tools, and a chance for six lucky Publicity Hounds to win a free consulting session with me. Stay tuned a week from today…
1. Pitching? Don't Skip This Step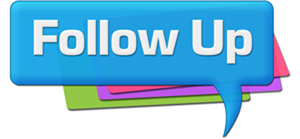 You can write a sizzling pitch, deliver it to the blogger or journalist who needs it most, but never get the publicity you had hoped for unless you follow up.
That's what author David Mathews of Wisconsin discovered after publishing "Lemons and Lemonade: My Mid-Life Dabble in Online Romance." The memoir explores the connections and disconnections he made while searching eHarmony.com for romance while in his 50s and twice divorced.
He used a publicist when he launched the book last fall. But he followed up himself, doubling back to journalists his publicist had pitched to see if they were interested.
"It's sales 101," he says. "You make the contact. You ask for the business. If they don't give you the business, you ask again."
It worked. He landed a big story in the Sunday Milwaukee Journal Sentinel a few days before a book reading at a popular Milwaukee indie book store. Another follow-up resulted in a two-and-a-half-minute segment on the local ABC station.
An ideal follow-up serves as a reminder that you already sent information but that—this part is important–you're offering something else that's related. That could be new information like statistics you found from a study that ties into the topic of your pitch, or a video, a tutorial or quiz. David included info about his upcoming book signing.
What else can you offer? I listed lots of ideas in the article I wrote at Joel Friedlander's blog. See "Master the Art of Publicity Follow-up with These Simple Tips." If you followed up a pitch and it led to publicity, tell us in the comments section.
#pitching #publicitytip
2. Thursday: More on Pitching
If you're trying to sell a book, you must ask for help. Don't try to do it alone or you'll fail.
In the publishing world, asking people for favors is known as pitching. Savvy authors pitch bookstores, reviewers, retailers, bloggers, librarians, freelancers, book clubs and any person, company or nonprofit who they think can help them.
Successful pitches have two things in common.
They're short. They also explain, up front, that you know who they are, you're familiar with what they do, and that your expertise or your book will be of interest to them or their audience.
If you don't pitch because you don't want to hear the word "no" or because you don't know how to ask people for something and make it sound as though you're doing THEM a favor, you'll love this.
Joel Friedlander and I are offering a free 60-minute training session at 4 p.m. Eastern Time on Thursday, April 27, on "5 Steps to Pitching Your Book to Anyone, Anywhere." I'll walk you through the five elements every book pitch should include so hear the welcome response, "Sure, I'll be happy to help."
To do: Register here and bring your questions.
#bookmarketing #bookpromotion #pitchyourbook
3. YouTube Deadline in 7 Days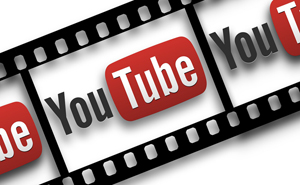 A week from today, YouTube is retiring annotations, the tool that lets you place text, or captions, on top of your video and tell visitors to do things like "Subscribe to this Playlist" or "Visit our website for more free tips."
I wrote about this last month I'm reminding you again because you still have a week to review your YouTube channel, find out which annotations are out of date, and replace them with a Card or Endscreen that people can see when using mobile devices. Here's Tim Schmoyer's tutorial on "How to Use YouTube's New End Card Editor." 
Without the Annotation Editor, you'll be unable to create or edit existing annotations. The only option will be to delete them. YouTube says existing annotations will continue to show when videos are being viewed on a desktop but not on mobile.
To do: If you don't have time to review all your videos, choose the most important ones and those that have the most views. Those annotation links get old quickly. Remove and replace them with a Card or End Screen.
#YouTube #videotips
4. Hound Video of the Week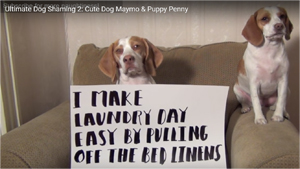 Cute dog Maymo and Penny the puppy help with chores. They clean up after parties, help with vacuuming, and even strip the beds on laundry day. Get ready to howl.