Issue #1041 July 26, 2016
Publisher: Joan Stewart
"Tips, Tricks and Tools for Free Publicity"
In This Issue
Pitch Heat Survival Tips
Writing Advice for Media Kits
What You Don't Know About Amazon
Hound Video of the Week
This Week in the Hound House:

My sisters and I are reminiscing about our fun weekend in Wisconsin, despite the sweltering heat and choking humidity. Here we are, pouring sweat, at the Port Washington City Band concert on Sunday. We swayed and clapped along with the music during the finale: a rousing rendition of "Stars & Stripes Forever." That's Lois on the left and Elaine on the right.
1. Pitch Heat Survival Tips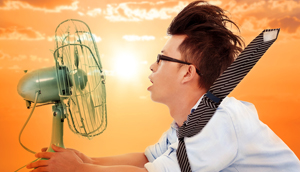 High pressure in the upper atmosphere will focus on parts of the Eastern and Western U.S. this week, sending heat indices well into the triple digits from the Mid-Atlantic states into the South.
This is the perfect time to pitch heat survival tips and drought stories to local TV stations that are on the prowl for fresh ideas. Consider:
Warn parents that children can be burned in seconds when they sit on hot metal playground slides.
Pitch products and services that help people keep cool, from misting fans to home-delivered meals.
What's the best way to keep dogs and cats from suffering heat stroke? How hot does it need to be before we dispense with the dog's daily walk? What are the signs that a dog or cat is overheated? Does the heat affect their appetites? Are some breeds more susceptible to the heat than others? (Great ideas for authors of dog books.)
The correct way to water a garden during a drought and severe heat.
How do Muslim and Orthodox Jewish women cope with the heat while adhering to religious rules that require things like ankle-length skirts and burkas?
To do: Read more drought ideas at my blog. Then grab the video replay and all the bonuses of the special training I hosted a few weeks ago on "How to Pitch Your Story in 5 Easy Steps for a Publicity Homerun." It comes with bonus handouts that include 27 angles for stories, and an example of a pitch that's customized for three different media outlets so you can see exactly how I wrote it. Order here.
2. Writing Advice for Media Kits
When writing press releases, your bio, company history and other materials for your media kit, write in the third person.
Why? To make it easier for bloggers, journalists and others to copy and paste entire paragraphs into their blog posts and articles about you. If you write in the first person, they have to change "I" to your name and double-check the spelling. That eats up precious time.
Another way to make it as easy as possible for them: Write your bio in four lengths: A two-line bio of about 140 characters (perfect for Twitter), 50 words, 100 words and 400-600 words. Give them just one long bio and you're increasing the chances for errors if they have to hack away at the copy.
To do: Check out the Quick & Easy Media Kit Templates for authors. They include 15 Media Kit Templates and a 62-page guidebook that walks you step by step through the process of creating this important bundle of marketing materials for your book. Publishing expert Joel Friedlander and I have sold thousands of these templates to happy authors. Order here.
3. What You Don't Know About Amazon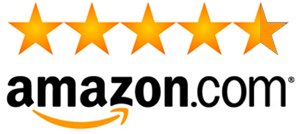 For buyers, Amazon.com can't be beat. But for sellers, it's one of the most confusing ways to sell your books and products.
That's because Amazon has lots of ways to help you write, market and sell books. But because most authors don't know the little tricks and tweaks, they're leaving money on the table. I'm shocked at how many authors don't know the difference between the standard Amazon profile and the more robust Author Central profile.
Jay Boyer and John Rhodes have published more than 140 books, sold more than 50,000 copies, hit the Amazon bestseller list a dozen times and earned six-figure royalties, including as much as $13,000 in a single month.
On Thursday, July 28, during free training at 2 and 7 p.m. Eastern, they'll show you the tricks they use to milk every possible dollar out of Amazon.
You'll learn why 8 out of 10 authors have their Amazon author profiles set up incorrectly and how you can make up to 70 percent royalties on your ebooks if you meet certain pricing guidelines.
They'll show you how to blast your Kindle ebook to a #1 Bestseller 48 hours after you publish it and how you can tap into a Kindle niche that's growing by 475 percent right now.
To do: Register for the free training, "How to Make the Most of Amazon: 7 Strategies Most Authors Don't Know to Write Books Faster, Get Published Quickly, Create Passive Income and Tap into the Power of the World's Largest Bookstore to Sell a Lot More Books," hosted by Steve Harrison. (This is an affiliate link.)
4. Hound Video of the Week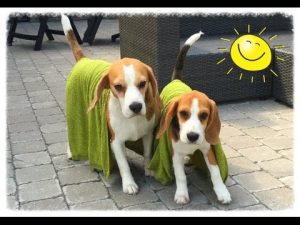 10 tricks and tips for keeping your dog cool in the summer.