Issue #1069 Nov. 1, 2016
Publisher: Joan Stewart
"Tips, Tricks and Tools for Free Publicity"
In This Issue
Pitch Election Stress Ideas
Speakers: Help People Introduce You
Step-by-Step Book Launch Toolkit
Hound Video of the Week
This Week in the Hound House:

I can't lie. I'm glad the Cleveland Indians lost the fifth game of the World Series Sunday night, forcing a return to Cleveland for Game 6 tonight. When Chicago hosted, I loved the shots of the Cleveland fans sitting in Progressive Stadium and cheering for the Tribe. The announcers seemed surprised. Not me. If I didn't live in Wisconsin, I'd be sitting there with them.
1. Pitch Election Stress Ideas
Are you having trouble sleeping, like I am? Or problems concentrating at work?
It could be the scummy election, made worse by the political venom on social media. A survey for the American Psychological Association shows more than half of American adults, almost equally divided between Democrats and Republicans, reported that the 2016 election is a very or somewhat significant source of stress.
What's a Publicity Hound to do? Start creating related content and pitching stories. Three ideas:
Clergy, Authors & Speakers: Are people praying for a favorite candidate to win? Does God listen to their prayers? What tips can you offer on how to deal with emotions like anger, hatred, resentments and envy?
Web developers and computer repair shops: Are customers calling, paranoid that their own email might be hacked? Are you getting questions about things like firewalls and how to add two-factor authentication for more security? What are you telling them?
Business experts: Retailers, even Etsy sellers, are complaining business is down because of the election. Is this a blame game?
To do: Read my seven other ideas on how to create content and pitch story ideas on dealing with election stress.
2. Speakers: Help People Introduce You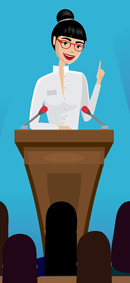 Smart speakers write their own introductions.
They make sure the person introducing them at an event reads it word for word and knows how to pronounce their name.
Do more than that. Help the person introducing you create a positive message, generate enthusiasm and interest, and convince the audience that listening to you is more beneficial than checking their email.
In an article for the Harvard Business Review, speaker Deborah Grayson Riegel shares tips on how to introduce someone who is speaking to your group. Use her tips to write your own introduction–one that makes audience members eager to see you take the stage. I love the example she uses for the final sentence in your introduction.
To do: Read "How to Memorably Introduce Another Speaker." Then use her tips to rewrite your own introduction. That's what I'm doing.
3. Step-by-Step Book Launch Toolkit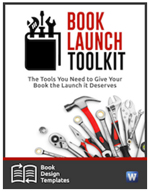 If you're writing a book, it's never too early to start planning your book launch.
You need to know when to start pitching bloggers for a blog tour, how to create a worksheet for your media campaign, and when and how to send advance review copies.
Timing and staying organized are critical. That's why I love the "Book Launch Toolkit" created by Kimberely Grabas. I bought it last year and refer to it often when I work with my own author clients.
The Toolkit includes a 103-page guidebook with a platform-building strategy and 20 tools and techniques. It comes with 7 templates and 5 cheat sheets on how to organize your book launch and stay on track.
It's on sale through midnight Wednesday night, Nov. 2, at one-third off the regular price.
To do: Review everything it includes and then think about much farther ahead you'll be than all the other authors who are burning up Google search with "how to do a book launch." See how to give your book the launch it deserves using this affiliate link.
4. Hound Video of the Week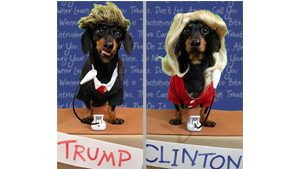 If you need some comic relief from the election, you'll howl when you see the Wiener Dog Debate, brought to you by a well-wishing Canadian. I love the hair.