Issue #987 Jan. 19, 2016
Publisher: Joan Stewart
"Tips, Tricks and Tools for Free Publicity"
In This Issue
Pitch a Follow-Up
Publicity for Kids' Books
How Smart Libraries Promote
Hound Video of the Week
This Week in the Hound House:

I'm ready to escape Wisconsin's bone-numbing cold on Saturday for a week in the Caribbean. It's the third annual Publishing at Sea cruise with authors, aboard Royal Caribbean's Allure of the Seas. A friend is staying at my house while I'm gone and doing battle with the dust mites that are causing my allergy problem. He's ripping out the carpeting in my bedroom and replacing it with a gorgeous hickory-colored laminate I found on clearance at Home Depot.
1. Pitch a Follow-up

It's one of the easiest publicity hits you can get.
It's called a "follow up." You pitch it to a media outlet, blogger, podcaster or website that's already covered your story. The email pitch sounds like this:
"Hi Sally. I want to share results of our campaign from six months ago, when we challenged local businesses to form teams of literacy tutors. Your story helped us recruit 85 new tutors in Chicago. They've created literacy programs for poor neighborhoods. Some are working with immigrants through local churches and libraries. Others are teaching English to employees in their own companies.
"We can share several of our best success stories with you, and introduce you to tutors and their students who have agreed to be interviewed. Interested?"
Notice the phrase "Your story helped us…" They love hearing that!
Smart Publicity Hounds pitch follow-ups because the media already know them.
To do: Review all your publicity hits from last year. Identify opportunities to follow up and explain the rest of the story.
2. Publicity for Kids' Books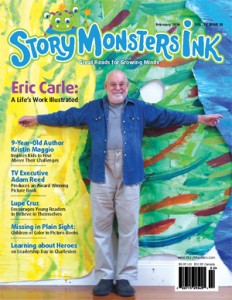 If you're trying to generate publicity for a kid's book, target Story Monsters Ink, a slick monthly that has featured two of my clients in the last few months.
Laurel MacQuarrie, author of the Misadventures of Seefus Slug series, clinched a spread on Pages 8 and 9 in the December issue under the headline "Laurel MacQuarrie has Created a Slug You'll Want to Hug."
Jo Ann Kairys, author of "I Want Cake!"–a beautifully illustrated picture book about bi-racial children–wrote an article on "Missing in Plain Sight: Children of Color in Picture Books" on Pages 18 and 19. She's a diversity expert, and rounded out her article with several other sources in addition to her own research.
To do: Read the "Send Us Your News!" summary on Page 2 where you'll also find links to the magazine's Twitter and Facebook accounts. Learn how teachers can submit their students' written works.
3.  How Smart Libraries Promote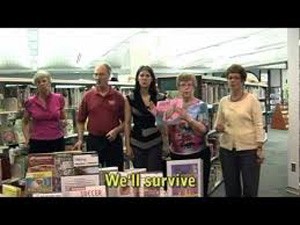 Libraries are having blast creating their own media outlets and connecting with patrons on social media.
I'll explain how when I present the keynote at 8 a.m. Eastern on Thursday, Jan. 21, for the Wild Wisconsin Winter Web Conference, open to everyone. I'm speaking on "YOU Are the Media: How to Use Web Tools to Publish, Broadcast and Tell Your Library's Story." Here's a peek:
The Charlotte-Mecklenburg Library in North Carolina, facing steep cuts in its budget several years ago, created a spunky video called "Libraries Will Survive" to the tune of Gloria Gaynor's 70s hit "I Will Survive." It racked up more than 164,000 views on YouTube and called the public's attention to the money problems. In the video above, watch those otherwise staid librarians shake it!
The New York Public Library shares book recommendations, author interviews and more on its year-old podcast called "The Librarian Is In."
The Topeka & Shawnee County Public Library in Kansas uses its Facebook page to encourage patrons to request books it wants the library to buy. The page has a "Review" tab that lets the public review the library. Staff members are quick to respond to complaints.
To do: Even if you're outside Wisconsin, register your library for this virtual free training tomorrow and Thursday. Share the link to the Wild Wisconsin Winter Web Conference.
4. Hound Video of the Week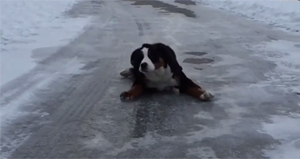 Slippery winter roads are too much, even for a Bernese Mountain Dog. Thanks to Publicity Hound Dan Janal of PRLeads.com for this one.