Issue #967 Nov. 10, 2015
Publisher: Joan Stewart
"Tips, Tricks and Tools for Free Publicity"
In This Issue
Pinterest Travel Photos Sell Books
Flabby Words That Rob Your Writing
Retweet Your Reviews
Hound Video of the Week
This Week in the Hound House:

Green Bay Packers fans are in mourning. Our team has been shredded like a big hunk of cheddar, last week by the Denver Broncos and on Sunday by the Carolina Panthers. Win or lose, I still wear my Cheesehead hat with pride.
1. Pinterest Travel Photos Sell Books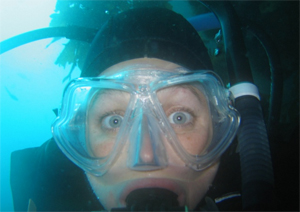 People on Pinterest are suckers for travel photos like this one of author Joanna Penn, scuba diving in New Zealand.
That's why Pinterest expert Beth Hayden tells her author clients to relate their book topics, even tangentially, to travel.
"Most authors can come up with boards on travel, even if it's just a place for them to keep their own ideas for their personal lives, so it's usually not terribly hard," she says.
For example, Joanna adding to her board, The Thriller Life. Travel and Adventure! and invites armchair travelers to go with her.
You can too, whether you write romance novels, sci-fi, children's books, mysteries or books in any other genre.
All those gorgeous travel photos can, indeed, help you sell books. Beth will explain how when I host a free webinar with her from 3 to 4:30 p.m. Eastern on Thursday, Nov. 12. It's called "The 3-Step Strategy for Doubling Your (Fiction or Non-fiction) Book Sales Using Pinterest."
Register here and come with questions.
2. Flabby Words That Rob Your Writing
People in The Publicity Hound Mentor Program know about my disdain for flabby writing.
If you come from the worlds of academia or nonprofits, you were trained to write in a convoluted style that makes you sound smart and important. You love using words with four or five syllables and mile-long sentences. The problem is, no one can understand what you've written.
Improve your writing, starting today, by reviewing Shane Arthur's list of 297 Flabby words and Phrases That Rob Your Writing of All Its Power.
If you need ongoing coaching with writing or publicity, unlimited email support and two one-on-one calls each month, join my mentor program.
3. Retweet Your Reviews
Pay attention to your Amazon product and book reviews, testimonials people email to you, and nice things clients say about you.
It's all fodder for Twitter.
Tweeting your own reviews and testimonials, and your clients', is just one of 14 ways to add spice to your Twitter feed.  
See the other 13 here (I love #9).
4. Hound Video of the Week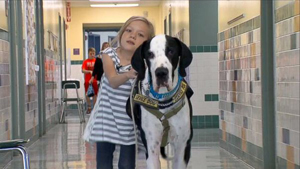 Meet 11-year-old Bella who weighs only 43 pounds, and George, her really Great Dane who weighs three times more than she does and helped her walk again. She suffers from a rare genetic condition that affects her bones and limits her mobility.