Issue #1280 Dec. 1, 2018
Publisher: Joan Stewart
"Tips, Tricks and Tools for Free Publicity"
In This Issue
Piggyback onto Scooter Injuries Trend
15 Publicity Hits for a Turkey Trot
Tuesday: TV Guest Bookers Tell All
Hound Video of the Week
This Weekend in the Hound House:

I'm still nursing my bad cold and catching up on the five hours of sleep I lost Thursday night hunting for my iPhone. I ripped my house apart and put it back together again. I moved furniture, sorted through the garbage, looked in every nook and cranny in my car and even prayed to St. Anthony, the patron saint of lost stuff. Friday morning, while watching the birds outside my window, I saw the phone lying face up in the snow next to my car in the driveway. It was wet, but the battery was charged and it's still ticking!
1. Piggyback onto Scooter Injuries Trend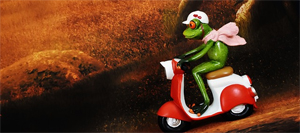 People are pouring into emergency rooms throughout the U.S. with gruesome injuries from scooter accidents.
Doctors are treating broken collarbones and ribs, collapsed lungs and severe head trauma. In Austin, Texas, hospitals report seeing up to 10 scooter injuries each day.
The media love this story because it has compelling visuals. Here's how authors, speakers, and experts can piggyback onto it for publicity:
–Doctors, chiropractors, and clinics: contact your local media, give them a link to one of the many online articles and share "the local angle."
–Baby Boomer experts, what safety precautions do you recommend? People of all ages and sizes are accident victims, but the elderly are more vulnerable.
–Safety experts, should all states adopt helmet laws for scooters?
–Lawyers across the country say they're still getting dozens of calls from people hurt in scooter accidents. If you're one of them, let the media know. How are you advising these callers?
–Give this story a holiday spin. If someone is buying a scooter as a gift, what safety precautions should accompany it?
To do: Read CNET's article "Electric scooters are now disrupting wrists, elbows and heads" and look for an angle you use to pitch your expertise.
#Scooters #ScooterSafety
2. 15 Publicity Hits for a Turkey Trot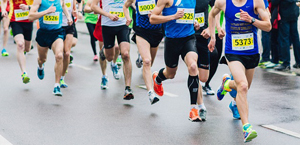 How do you pitch a Turkey Trot and make the media swarm all over a routine event that's been around for more than 100 years?
You give it a compelling human interest angle.
That's what WordWrite Communications did for its client, the YMCA of Greater Pittsburgh this year. They dug deeper to uncover more than just the "who" and "where" questions. Instead, they focused on the motivation for the event, who makes it happen and why.
They found Doug Williams, a former addict who called Pittsburgh streets home. After a stint in jail, he got his life back and realized his calling was to help others. Today, the grandfather of 12 volunteers for the Y. He greeted runners at the registration table for this year's race on Thanksgiving morning. WordWrite pitched the story of his journey from the gritty streets of Pittsburgh to the service work and outreach he provides today.
The result of WordWrite's efforts was extraordinary.
"Fifteen stories were published or aired over Thanksgiving Week," says Hollie Geitner, VP of client services.
Those include an appearance on "CBS—Pittsburgh Today Live" and articles in the
Pittsburgh Current and the Pittsburgh Post-Gazette.
To do: The next time you promote an event, pitch an emotional human interest angle. Holly's blog post "Uncovering compelling human interesting stores to promote an event" explains how.
#EventPR #EventPublicity
3. Tuesday: TV Guest Bookers Tell All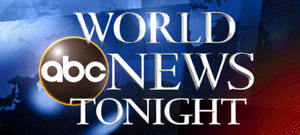 If a major news story breaks today, and you're the perfect expert who can appear on "ABC World News Tonight," would you know who to call to be considered as a guest?
If you know who to call, do you know what they're looking for?
Do you know exactly what to do and say to stand heads above all the other so-called experts who are contacting the big shows?
Join Steve Harrison on a free 90-minute telephone seminar at 2 or 7 p.m. Eastern Time on Tuesday, Dec. 4. He'll interview a group of his producer friends who tell you EXACTLY what they want:
Mariann Sabol, Live with Kelly and Ryan 
Tommy Crudup, Rachael Ray 
Dan Fitzpatrick, The Wendy Williams Show 
Stacy Rollins, Telepictures Productions 
Plus others to be announced
Together, they'll share publicity tips that 9 out of 10 other Publicity Hounds don't know.
The call is free except for your normal long-distance charges.
To do: Register here using this affiliate link. You'll receive all the details back within five minutes.
#TVPublicity #PublicityonTV
4. Hound Video of the Week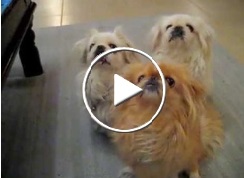 Super-cute Pekingese dogs wait for a snack…and wait…and wait. Watch their heads move in unison.