Issue #1066 Oct. 22, 2016
Publisher: Joan Stewart
"Tips, Tricks and Tools for Free Publicity"
In This Issue
Niche Holiday Gift Guides
Still No Avatar?
Authors: Start with Local Publicity
Hound Video of the Week
This Weekend in the Hound House:

I'm finishing the tedious chore of marking every plant in my garden, with instructions on whether it needs to be divided in the spring, moved to another location or given to my garden club for our annual plant sale Memorial Day weekend. Here's one of my Peppermint Patty Dahlias that survived a snack attack by the local deer. It came back and finally bloomed this week. Gorgeous! And a keeper.
1. Niche Holiday Gift Guides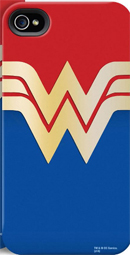 What to buy the comic book lover on your Christmas list? A Wonder Woman phone case, with a colorful red, gold and blue logo, at just under $30.
Or how about a Netflix subscription for only $9?
Or "The Amazing Adventures of Kavalier and Clay" by Michael Chabon, a novel that gives readers more information about superhero history than some nonfiction books on the topic.
Where can you find all these products? In the "Best Gifts for Comic Book Lovers" gift guide. Even Forbes has its own "Gift Ideas for the Comics Geek in Your Life."
A quick Google search shows gift guides for other super-tight niches. There's one for vegans, one for farmers and one for chemistry teachers.
This is the time when online gift guides are searching for products–even gift cards and gift certificates–that would be perfect for general or niche markets.
Big media outlets, too, might want to know about your products and services.
To do: Use my five sample pitches and get 10 free leads from gift guide editors who are looking for products and services from now until the end of the year, including the Washington Post book editor and "Good Morning America's Weekend Edition." They're all yours when you buy the training package "How to Get Your Product Featured in Holiday Gift Guides." The 90-minute video walks you through the entire process from start to finish.
#holidaygiftguides #giftguides
2. Still No Avatar?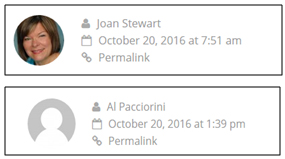 If you're serious about publicity, you'll want your photo to appear everywhere.
To do that, you need an avatar, an image that follows you from site to site and appears beside your name when you do things like comment or post on a blog. The example above is from the Editor & Publisher blog where I posted a comment this week in response to an article about "How Newspapers Can Find New Readers with a Return to Religious Reporting."
I created my avatar long ago. That's why my photo appeared automatically when the comment was published. Al Pacciorini, who posted a comment below mine, doesn't have an avatar. As you can see, the image that appeared on his comment looks like a pawn on a chess board.
If he doesn't want publicity, that's fine. If you do, you need an avatar.
To do: Create an avatar now, before you forget, at Gravatar. It takes just a minute or two.
#avatars #publicityphotos
3. Authors: Start with Local Publicity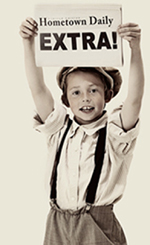 If you're a new author, publicizing your book can be a tougher struggle than it is for authors who already know how to promote themselves.
That's why the easiest place to start is in your own town, with your local weekly newspaper. Weeklies view local authors as stars and celebrities.
Pat Morgan, author of "The Concrete Killing Fields," penetrated the local Memphis area when she launched her book about the homeless in Washington, D.C. She received a full-page article in the local newspaper and got a full page article in the Memphis Flyer, and appearances on local TV stations.
Trying to get coverage in several smaller media outlets can be more worthwhile than trying to get one major media hit and waiting and waiting and waiting…
To: Read four more of my ideas in the article "Book Publicity Do's & Don'ts for Indie Authors" at the Bookworks.com website.
#localpublicity #newspaperpublicity
4. Hound Photo of the Week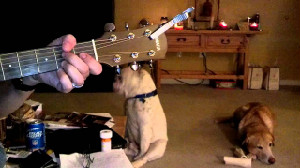 Watch as this bulldog rocks out to Nirvana's "Come as You Are," while his owner plays along on the guitar. Thanks to Publicity Hound Sophie Wajsman of Mebourne, Australia.