Issue #1330 Oct. 15, 2019
Publisher: Joan Stewart
"Tips, Tricks and Tools for Free Publicity"
In This Issue
Newsjack "The Joker"
Brilliant Marketing Video
Don't be Scammed by Book Awards
Hound Video of the Week
This Week in the Hound House:

After reading a Facebook post from my friend, Publicity Hound Stephanie Chandler, who loved the movie "The Joker," I've reconsidered my decision to skip it because it sounds depressing. Yet friends are raving about the movie. Audiences gave it an impressive 89 percent on RottenTomatoes.com. Critics, however, weren't as bowled over and gave it a 68 percent on the Tomatometer. Stephanie describes it as "brilliant and dark and intense and thought provoking and deeply, deeply sad. It depicts the worst side of mental illness, and my hope is that it sparks discussion and action. We need far better mental health care in this country." Did you see the movie? Did you like it?
1. Newsjack "The Joker"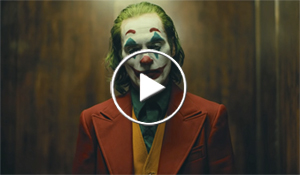 Jump on this while it's still red hot.
The movie "The Joker," which tells the original story of Batman's infamous foe, brought in an astonishing $93.5 million on its opening weekend. It screams for commentary from authors, speakers, and experts who provide content about mental illness. Nearly one in five U.S. adults live with some form of mental illness.
Some ideas to consider:
–Is the movie an accurate portrayal of mental illness?
–Are people with severe mental problems more prone to violence?
–What changes are needed about the way the health care and criminal justice systems treat the mentally ill?
–What should friends and relatives do if they know a mentally ill person who has stopped taking doctor-prescribed medication?
–Do mental health laws need to be changed?
To do: When you pitch, be sure to mention "The Joker" tie-in and use the latest box office statistics available. This topic is also perfect for a tips list, a short list of from 5 to 7 tips perfect for traditional media and social media. My video "How to Use a Tips List to Promote Absolutely Anything" shows you how to write them, use them in multiple ways to wow journalists, give your social media followers great content to share, and create the list in several multi-media formats. Each tip list doubles as a traffic magnet because it includes a link back to your website. Knock $24.97 off the price when you use coupon code TIPS at checkout. Order here.
#thejoker #joker
2. Brilliant Marketing Video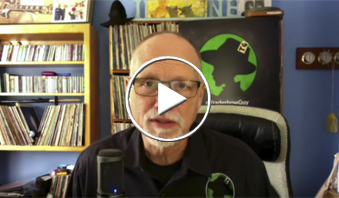 When you're a guest on someone's podcast or write a guest blog post, seldom do you receive more than a simple thank you, right?
This morning, I found a link to a clever YouTube video in my email. Tim Patterson, the trade show exhibit guy, created it for me as a way to extend our relationship and encourage me to send him referrals. I was a guest on his podcast a year ago and how to get publicity at trade shows. 
The video, under two minutes, is filled with value. It explains his ideal target market, how much money they should be willing to spend, how I can help him, how he will compensate me, and how he can help me.
Anyone can create a video like this, I said to myself. That's why I'm sharing it here.
Consider this idea when you meet a valuable business contact at an event, or even on LinkedIn. I love that he customized the video above just for me.
To do: After you watch it, think of other types of important contacts that might want something like this. The video is unlisted on his YouTube channel. That means no one can find it unless they have the link.
#MarketingTip #TradeShow
3. Don't be Scammed by Book Awards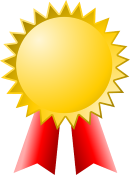 Entering your book in as many book award contests as possible can be tempting.
You can put an award sticker on the cover, publicize the honor in your press releases and use the phrase "award-winning author" in your marketing materials.
Book awards can also leave you broke.
Be warry of awards that require a membership fee to join their organization, and then another fee to enter your book in their contest. If they make you pay, and it's a major contest you think you can't ignore, ask if hey will publicize the awards. If they don't, the contest probably isn't all that important.
"The Book Awards business is a revenue business…for the promoter," writes book shepherd Judith Briles. "Make sure you do your homework. Why are you entering? If you win, what will you do to promote your status? Does the group support its winners with media coverage?"
She suggests you do a Google search and look for complaints, problems or accusations of scams. If so, find another group. Make your time, your book, and your dollars work for you.
To do: Judith lists contests she considers legit. See her article "Revisiting Book Awards for Authors." 
#BookAwards #BookContests
4. Hound Video of the Week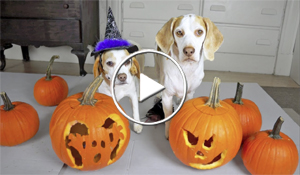 Maymo and Penny do super job carving their own pumpkins–until the mischief at the end.