Issue #976 Dec. 12, 2015
Publisher: Joan Stewart
"Tips, Tricks and Tools for Free Publicity"
In This Issue
Newsjack "Star Wars"
How to Get Amazon Reviews Fast
New Local Radio Stations in D.C.
Hound Video of the Week
This Weekend in the Hound House:

Thanks for your many helpful tips on how to find relief from my dust mite allergies. Many Publicity Hounds recommended ripping out the carpet in my bedroom. Others suggested expensive air purifiers, face masks when I clean and vacuum–even kinesiology and acupuncture. My cough seems to be subsiding. I'll keep you posted. And if Flonaise doesn't work, as the doc recommended, it's onto Plan B.
1. Newsjack "Star Wars"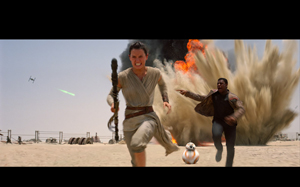 Thanks to book shepherd Judith Briles for urging Publicity Hounds everywhere, not just authors, to newsjack "Star Wars" which opens on Thursday.
That means pitching a story idea that either ties into the movie or one of its characters, or using words and phrases from the movie in your pitch. Examples:
Workplace Experts: 7 Ways to be Like Fearless Princess Leia at the Office
Marketing Experts: What "Star Wars" Can Teach Marketers About Teasing an Audience
Authors who have written a trilogy: The Top 5 Movie Trilogies in History and Why Fans Love Them. (Star Wars, of course, will be one of them.)
Judith shared that idea when she interviewed me on her podcast this week. We discussed email marketing for authors. Download the hour-long interview here.
2. How to Get Amazon Reviews Fast

If your book is for sale on Amazon, you need far more than a handful of reviews.
Book distributor Amy Collins recommends 25 reviews within one week of your launch date. If you can amass more than 100 legitimate reviews, Amazon will consider paying for Google pay-per-click ads, and ads on Facebook and other sites, to pull people over to your Amazon sales pages.
That means you should be contacting as many Amazon reviewers as possible–and not just the top 100 or even the top 1,000. More social proof = more books sold.
Here's the problem: Sifting through all those reviewer profiles to find the ones that would be interested in your topic can take days–weeks even.
There's an easier way.
I'm hosting a free webinar with Debbie Drum, who has published more than 50 books under various pen names, from 4 to 5:30 p.m. Eastern on Wednesday, Dec. 16, on "How To Find Powerful Influencers on Amazon to Review Your Books and Help You with Your Marketing–-for Free."
She'll explain how to find reviewers quickly, pitch them correctly, and avoid many of the landmines, like review swapping, that can cause major trouble for you.    
Register for the webinar here.
3.  New Local Radio Stations in D.C.
If you live Washington, D.C., you'll soon have two new publicity outlets: FM stations that will put neighborhood voices on a community radio station.
Arlington Independent Media and Takoma Radio, are launching low-power FM stations. Arlington's WERA went live on Dec. 6. Takoma Radio's WOWD will hit the airwaves next year. Both stations will be all local all the time, from talk and sport to even a Pokeman show.
Read more about the shows and listen to the podcast here.
Thanks to podcast producer Michael O'Connell. I learned about from a discussion in the Online Reporters and Editors group on LinkedIn.
4. Hound Video of the Week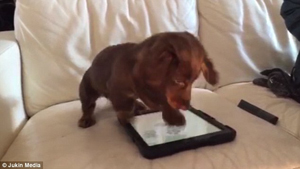 Will somebody please put a Dachshund puppy and an iPad in my Christmas stocking? You'll ask for them too when you see this video.