Issue #1316 July 9, 2019
Publisher: Joan Stewart
"Tips, Tricks and Tools for Free Publicity"
In This Issue
Newsjack: Amazon Prime Day
Tool Connects Podcasters & Guests
Use Reader Reviews in Book Marketing
Hound Video of the Week
This Week in the Hound House:

I'm looking forward to my trip this week to Eataly, a large format/footprint Italian marketplace in Chicago. It includes a variety of restaurants, food and beverage counters, bakery, retail items and a cooking school. I was sugar-free for more than six weeks before I fell off the wagon last month. Maybe I can sneak in a cannoli before I climb back on.
1. Newsjack: Amazon Prime Day

Amazon Prime Day is the annual shopping holiday only for Prime members who can incredible deals on almost everything.
It starts on July 15 and lasts up to 36 hours. This is a perfect opportunity for authors, speakers and business owners to offer their expertise and recommendations on what to buy. Here are my ideas:
–Parenting experts, show parents how to teach their kids about saving money on special sales days.
–Financial advisors and money managers, share tips on how buyers can stick to a firm budget and not go overboard with purchases.
–Small business experts, what are the top five items you recommend every business owner should have in a home office?
–Retail sales experts, when is a Prime membership worth it? And when is it a waste of money? How about creating a short quiz called "Are you a good candidate for a Prime membership?"
–What, exactly, constitutes a "great deal"? Other retailers tend to drop prices during Prime Day, so you'll also find the best anti-Prime Day sales from eBay, Walmart, Best Buy and more.
To do: This is super content for sharing on social media as well as pitching to your local TV stations. Learn how to pitch this story to the all-powerful "Queen Bee" inside every TV newsroom. This is the person who decides what gets covered and what doesn't. Former TV reporter Shawne Duperon explains the best time of day to call the newsroom, how to sound cool by talking their language, and how to use her pitching formula. Publicity Hound Tom Graber used her tips and got three media hits in only two days, including an in-studio interview on a TV station in Milwaukee. Learn how you can do it too. Order the digital transcript "How to Get on the Local TV News Tomorrow."
#AmazonPrime #PrimeDay
2. Tool Connects Podcasters & Guests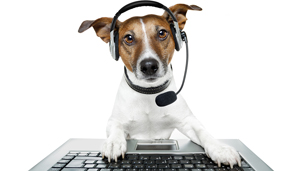 If you're a podcaster looking for a guest, or a podcast guest looking for a podcaster to pitch, I found a cool tool that will help you. And it's free.
Need great guests? Use PodcastGuests.com to find other podcasters and experts that already know what it takes to be a guest and invite them on your program.
Want more exposure? PodcastGuests.com helps in two ways. First, being a guest on another podcast helps spread the word about your podcast. Second, when you invite another podcaster or expert to be on your program, they usually help promote their guest appearance.
After you sign up, they'll send you a weekly email with opportunities for you to appear on podcasts as a guest. Find a good match? Just fill out the form and your information will be sent to the podcaster.
Looking for other podcasters and experts to be guests on your program? Complete a short form and you'll get in the weekly emails. Interested podcasters will fill out a form with their qualifications and you'll get access to their information. They won't get your email address, so you don't have to worry about spam!
To do: Check it out at here. Then let me help you brainstorm ideas to pitch to podcasters, one of only hundreds of potential topics we can discuss during a Rent My Brain session. We use GotoMeeting so you can see my computer monitor the entire time without having to take notes. I send you the video recording and all my notes. Use me to review articles and press releases, teach you how to pitch, help you define your target market and where to find them, and more. Learn about how to Rent My Brain. 
#Podcasting #PodcastGuests
3. Use Reader Reviews in Book Marketing

You work so hard generating book reviews on Amazon, Goodreads and elsewhere.
Now, make those reviews do double and triple duty. Book marketing expert Sandra Beckwith offers these three ideas:
Add them to social media headers. Use one (or two!) in your Facebook page cover image, Twitter and LinkedIn headers, and Instagram profile.
Add them to the back pages of subsequent books. Each time you write a book, add reviews of earlier books to the back. This will help readers discover your "backlist" — your older books.
Print them on bookmarks. A pithy reader review quote is one of my top five elements for a bookmark. The others are the book title, cover image, your name, and your website URL.
To do: Read six more tips in Sandra's excellent article "9 ways to use reader reviews in book marketing." Then slash the price in half when you buy my video package on "Where to Find Millions of Readers Online to Review, Recommend & Buy Your Books." Use coupon code "review" at checkout when you order here. 
#BookReviews #BookMarketing
4. Hound Video of the Week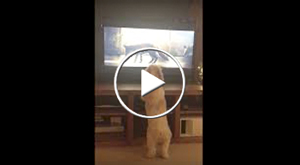 Trevor watches TV and gets so excited, he jumps up and down when he sees other animals jumping up and down. Thanks to Publicity Hound Teri Brown for this one.