Issue #1217 April 24, 2018
Publisher: Joan Stewart
"Tips, Tricks and Tools for Free Publicity"
In This Issue
Money-making Pinterest Tip
These Power Tools Spark Creativity
LinkedIn Has Changed Your Profile Again
Hound Video of the Week
This Week in the Hound House:

After years of battling the swarms of box elder bugs that nap in the sunshine on my neighbor's garage, and are started to appear in my house, I've found the ultimate weapon: a squirt of Palmolive into a spray bottle filled with water. The soap cuts off their oxygen supply. Yesterday, I killed hundreds of these pests and claimed victory, only to return a few hours later and see a new batch of bugs napping. I'll be back out there this afternoon with my weapon. See Item #2 below for another way I use dishwashing liquid.
1. Money-making Pinterest Tip

This doesn't seem logical. But some of the most profitable images on Pinterest have nothing to do with pretty photos, cute emojis or eye-popping gravatars.
You can make money with one juicy tip-o-graphic, a pinnable image that includes mostly words, like 10 tips excerpted from your book or speaker presentation, accompanied by a small image of your book cover or your logo.
How does this make money for you?
People click through on pins and repins at an astounding rate–anywhere from 2% to 25% click-through rate. That means they're ready and willing to visit your sales page where they can buy your book or product or subscribe to your email list.
Even if you have a boring topic, Pinterest is the Number One social networking site to be on if you want people to buy whatever you're selling.
I've teamed up with Daniel Hall and John Kremer, the masters of how to use Pinterest as a money machine. Their free training will be from 4 to 6 p.m. Eastern on Thursday, April 26. This will be the most profitable two hours you'll spend on training this year. And it's free. One lucky attendee will get a social graphic created and posted to their Pinterest Board that has over 1,000 followers. But you must present to be eligible. You will learn:
How you can effectively use Pinterest even if you're not a graphic artist and couldn't design your way out of a wet paper bag.
The graphic "hack" that practically forces people to notice your pin.
The characteristics of the most shared info-graphics on Pinterest and how you can exploit them.
How a tool-o-graphic was repinned more than 1.4 million times and drove more than 122,547 website visitors.
To do: Regardless of whether you're a Pinterest newbie or a longtime user, register for the free training here. 
#PinterestTip #Pinterest
2. These Power Tools Spark Creativity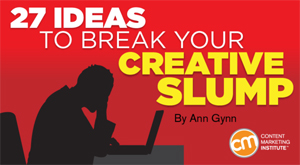 My friends and family make fun of me because I don't own a dishwasher.
Let them laugh. Nothing unblocks my creativity better than scraping gunk off the bottom of a casserole dish. When I need an idea for a new training program, a presentation or an article, I squirt green Palmolive into the sink, run the hot water, dig in and start scrubbing. This works almost every time.
When I saw a HARO query recently from Ann Gynn who was looking for ideas on how to break a creative slump, I remembered the blog post I wrote on how a sink of dirty dishwater sparks my creativity. Indeed, scientific research shows that being in or close to water helps the creative juices flow.
I responded immediately with a short reply and a link to that post. She must have loved the idea because she included my tip in her article, written for the Content Marketing Institute. I was careful to include the phrase "publicity expert" twice in my reply. It appeared twice in the article.
To do: Read "27 Ideas to Break Your Creative Slump." My tip is at the end. If you aren't receiving media leads from HARO, short for Help a Reporter Out, subscribe here and read the leads that will be emailed to you three times a day.
#Creativity #WritersBlock
3. LinkedIn Has Changed Your Profile Again

If you haven't seen the new way your profile appears on LinkedIn, you will soon.
Three major changes:
Your profile photo will be moved from the center to the left-hand side.
Your headline and your location will be moved from the center to the left-hand side.
Your current company name and logo, along with your university name and logo, have been moved from the bottom of the top box to a higher position on the right-hand side.
This is the second change in less than a year, and super-annoying.
To do: Get step-by-step directions on exactly what you need to do to prepare for these changes by reading Wayne Breitbarth's excellent article "Here is What You Need to Know About Your Brand New LinkedIn Profile." 
#LinkedIn #LinkedInTip
4. Hound Video of the Week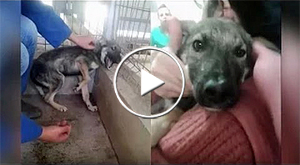 Kanye the shelter puppy couldn't stop crying out in pain when anyone came near him because he'd never felt a gentle touch. But then he met this woman, and she knew exactly how to transform him into the most trusting dog.