Issue #1064 Oct. 15, 2016
Publisher: Joan Stewart
"Tips, Tricks and Tools for Free Publicity"
In This Issue
Media Kit Mistake
How to Start a Mentor Program
Free Ebook on Book Reviews
Hound Photo of the Week
This Weekend in the Hound House:

When I dog-sit today and tomorrow, I'm taking Bear to the dog park. We'll walk to the lake, we'll snuggle up on the couch at night and watch TV. And if she ends up on my bed sometime during the night, I probably won't complain.
1. Media Kit Mistake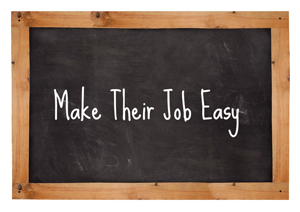 The worst thing you can do with a media kit is send it to the media when they least expect it.
If you send it as an attachment and they didn't ask for it, they probably won't open it. Some newsrooms forbid journalists from opening attachments due to viruses.
If you snail-mail it and they don't know what it is or why you're sending it, they'll throw it in the trash. There's no time to wade through a media kit trying to find the story.
Don't send your media kit. Offer it after you have pitched an idea and a journalist wants to cover the story. Your media kit should be filled with content that makes the media's job easy.
I shared those tips on Thursday, when Joel Friedlander and I presented "The Indie Author's Guide to Creating a Killer Media Kit." We had several questions from participants about whether authors should hire people on Fiverr.com, the online marketplace where you can buy services beginning at $5 per job, to have them "send out" media kits.
Never!
Maintain control of your own book marketing and publicity campaign. Don't put this important job in the hands of a subcontractor you don't know. Instead, use our "Quick & Easy Media Kit Templates" for indie authors. You'll get them for more than 30 percent off through midnight Monday night Pacific Time.
To do: Listen to the replay of Thursday's free training. And take a look at our super offer on the 15 Media Kit Templates. The discount will be applied at check-out.
#bookpublicity #bookmarketing #mediakit
2. How to Start a Mentor Program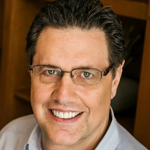 If you're a subject matter expert or consultant and you don't offer a high-level, one-on-one service, consider starting a Mentor Program.
I've had The Publicity Hound Mentor Program for more than a decade. It contributes to my expertise. It creates a healthy revenue stream. And it has forced me to excel in my topic, become a better teacher and leader, and never stop learning.
On Monday, Tom Antion begins his four-week course on "How to Start and Run a Mentor Program." For two decades, he has worked with 1,700 mentees, including me, and made some mistakes along the way. He'll share them all, including all the sample forms and paperwork that has he has developed and refined over many years. He'll also explain the different types of content you can create, and various methods of teaching, so you can take on more mentees.
The sessions will be delivered via live webinar on Oct. 17 and 24 and Nov. 1 and 7. You can pay using PayPal Credit, with no payments for six months. In that time, you should have your own program in full swing. I registered for this course because, as I said, I can never stop learning.
To do: If this sounds right for you, I hope you can join me, using this affiliate link. You can even take advantage of PayPal credit and have no payments for six months, plenty of time to get your mentor program up and running.
3. Free Ebook on Book Reviews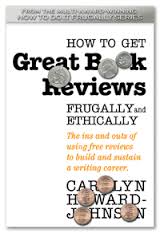 One of the most controversial issues in the publishing world is whether you should pay for book reviews. There's no shortage of people willing to take your money.
Some book coaches say never pay for a review. Period.
I say that if you can afford to pay for reviews from the few reputable reviewers like Kirkus or BlueInk Reviews–with no guaranteed the review will be good–go for it. Any excerpt you can lift from a review and use in your marketing materials might move a cautious buyer off the fence and convince them to buy your book or place a bulk order.
Publishing expert Carolyn Howard Johnson agrees. But she's far more interested in showing you all the ways you can build your book marketing campaign, and your business, on reviews you get for free. Bookbaby.com, an eBay company, is offering a digital copy of her new book "How to Get Great Book Reviews Frugally and Ethically" free through Oct. 30.
You'll get tips galore on how to find, contact and pitch reviews who won't take your money. And you'll learn to what to do with the reviews to build your platform.
To do: Download the Kindle, mobi or PDF versions of "How to Get Great Book Reviews Frugally and Ethically." 
#bookreviews #freebookreviews #bookmarketing
4. Hound Photo of the Week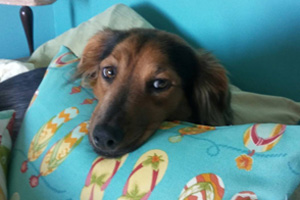 It's not often that I do this, but I just had to share this picture of my VA, Christine Buffaloe's adorable rescue, Pansy!