Issue #1122 May 9, 2017
Publisher: Joan Stewart
"Tips, Tricks and Tools for Free Publicity"
In This Issue
Liquidation Sale Starts Now
Book Marketing Tip
Thursday: What Corporate Sponsors Want
Hound Video of the Week
This Week in the Hound House:

I miss my dog Bogie, shown here in her warm winter hat, since she crossed the Rainbow Bridge last August. I called my friend and asked if I can borrow his Chocolate Lab/Springer Spaniel for a few days. It will be good to have a walking buddy again and feel safe knowing she's at the foot of my bed, guarding me while I sleep.
1. Liquidation Sale Starts Now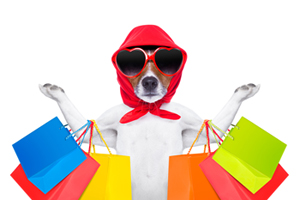 Here's one of thousands of killer tips I share in learning tools that are part of the giant Liquidation Sale under way today with discounts of up to 94 percent.
Use LinkedIn to build your email list with this clever tactic. When someone invites you to connect, decide if you want to accept the invitation. If you do, reply and thank them. 
Also ask if you can add them to your email list so they can see the valuable email tips you share or stay in touch with you. Most people I ask say yes. I manually add them to my email list in AWeber, my email management program, rather than sending them to an opt-in page because they might not follow up. After I add them, they hear from me, just like you do, twice a week.
Do this only when you accept invitations to connect, not when you are sending an invitation. 
My big Liquidation Sale includes the "LinkedIn Bundle" of five LinkedIn learning tools I'm offering for a pittance, only $27. You'll get a cheat sheet with the exact text I use when I ask people if I can add them to my email list. Feel free to steal it and adapt it for your own use. Remember, those people approached you first, and you're accepting their invitations. So don't worry that they'll be insulted that you asked if you can add them to your list.
To do: Other bundles include tools for Press Releases & Pitching, Blogging, Book Publicity & Marketing, and Social Media. Or fill your digital shopping bag with all five, called The Mother of All Bundles, and save 94 percent + get a free 15-minute consulting session with me. Go here now and shop till you drop.
#LinkedInTip #LiquidationSale #PublicityTips
2. Book Marketing Tip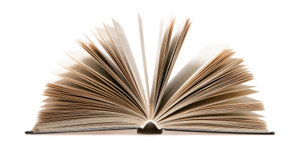 Want a profitable way to sell more books? Hop onto the speaking circuit.
Have a book for kids? Don't speak only to children. Try to get speaking engagements at retirement communities, where Grandma and Grandpa might be eager to buy your book for the grandkids.
These venues are also terrific places to speak about your adventure thriller, mystery novel, memoir, health topic, romance novel, travel guide or craft book.
Bigger retirement communities have annual luncheons that need interesting speakers. If they choose you, your bio, photo and book title could end up in their newsletter that goes to everyone in the community, not just those at the luncheon.
To do: Six learning tools in my "Book Publicity & Marketing Bundle" will shave months off the tedious chore of launching your book, help you collect more and better book reviews, and use little-known strategies and tools to make your books practically fly off the shelves. Get all six, a $393.80 value, for only $27. Go here now and claim your digital goodies at this one-day sale.
#bookmarketing #bookpublicity #sellbooks
3. Thursday: What Corporate Sponsors Want

You don't need a giant email list, huge audiences at your speaking engagements or a thousands of followers on social media to attract the attention of a corporate or nonprofit sponsor.
Even if you're a nobody and write about or speak on a super-narrow topic, you can attract a company or nonprofit that needs to get its name in front of your audiences.
These organizations don't always have the time to hunt for the types of people you already attract. That's why they rely on authors, speakers and experts like you to be their corporate spokespersons.
With the right system and approach, you might be surprised how easily you can get sponsors to help you by underwriting many (if not all) of the costs of your seminar or event, or your travel or PR expenses.
On Thursday, May 11, you'll learn how an author/speaker landed sponsorships with FedEx, Bank of America, Microsoft, Walmart, Dun & Bradstreet, Wells Fargo and many other companies and organizations. Join Steve Harrison at 2 or 7 p.m. Eastern as he interviews the special guest who will explain the five things a corporate sponsor will fund for you. He'll list the top 14 categories for authors and speakers who are most in demand.
To do: Register for the free web class "The Top 5 Ways to Attract Corporate Sponsors — Even If You're Just Starting Out" using my affiliate link.
#sponsorships #corporatesponsors
4. Hound Video of the Week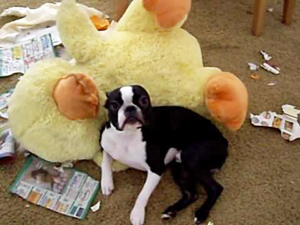 Scooter the Boston Terrier seems unfazed after ripping apart everything in site and being shamed by his owner.