Issue #1110 March 28, 2017
Publisher: Joan Stewart
"Tips, Tricks and Tools for Free Publicity"
In This Issue
Let Them Wear Leggings
Say Good-bye to YouTube Annotations
Writing for Mobile
Hound Video of the Week
This Week in the Hound House:

I missed you Saturday. Starting Friday and all weekend, I was in bed with the flu, on strict orders from the doctor to sleep, drink lots of water, buy those Vitamin C Airborne tablets, and dispense with my daily walks. It worked. The Hound is healthy again and feeling great.
1. Let Them Wear Leggings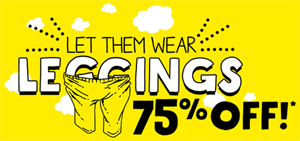 When United Airlines landed in hot water for banning two girls from boarding a plane because they wore leggings, competitor Spirit Airlines wasted no time using the controversy for its own promotion.
An email arrived this morning with the subject line "Bring Your Leggings." When I opened it, I saw the illustration above and this message:
"Because of recent headlines, we thought we'd double-check our etiquette atlas. Turns out wearing leggings are not a big deal. We thought everyone knew that, but guess not. Well at least at Spirit, we're united (cough) about letting you girls dress how they want. If you fly with us, get your leggings on ladies. Or even gentlemen. No judgments here. Unless you're wearing those new clear-knee mom jeans, then some judgments. But you can still fly with us. Just use this deal so that next time you can buy a complete pair of pants."
It linked to a page where travelers could get 75 percent off selected flights.
Now that's clever.
To do: Look for opportunities to piggyback off breaking news stories like this one for publicity, a special sale or a promotion. That's what I'm doing. Today only, you can grab my giant package of 52 special reports, regularly $247, for 75 percent off. Knock $185.25 off the price when you use the coupon code LEGGINGS at checkout. Grab this deal here.
#Leggings #UnitedFail
2. Say Good-bye to YouTube Annotations

YouTube is retiring annotations, the tool that lets you place text, or captions, on top of your video and tell visitors to do things like "Subscribe to this Playlist" or "Visit our website for more free tips."
Starting May 2, you'll no longer be able to add new or edit existing annotations, only delete them. Existing annotations will continue to show when using a desktop computer, but not on mobile.
In its place, you now have the ability to use the more powerful Cards and End Screens, two mobile-friendly tools that have been around awhile. They let you poll your audience, link to merchandise, recommend videos and more. They get seven times more clicks than annotations do, and they're easy to create.
Tim Schmoyer of VideolCreators.tv made a helpful tutorial video that explains how to use End Screens and Cards. I love the fact you can choose from calls to action like visit, sign up, shop, download, order or buy. You can link to your own website, a merchandise site or even a crowdfunding site.
To do: Watch Tim demonstrate how to use Cards and End Screens.  Then go over to your YouTube channel and start experimenting with these tools.
#YouTubeTools #VideoCreation
3. Writing for Mobile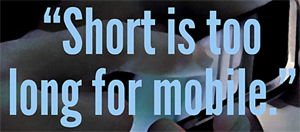 Verbose sentences and paragraphs that go on forever rank among the top writing problems I see when working with people in The Publicity Hound Mentor Program.
Big, clunky blobs of gray type on the screen send the message, "You'd better hunker down for a while. This is going to be difficult to read."
Texting has trained us to communicate with short messages. The next time you're writing an article, blog post or copy for a web page, think about how it will appear on a mobile device–then check to see how it looks.
Writing expert Ann Wylie has compiled a fascinating collection of quotes on writing for mobile.
To do: Notice the format of Ann's blog post–just a series of quotes about an interesting topic. You can do this too. What topic does your audience care about? Do a Google search and see how many compelling quotes you can find for your next blog post.
#WritingforMobile #QuotesonWriting #WebWriting
4. Hound Video of the Week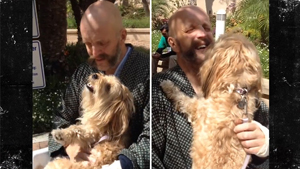 "Harry Potter" actor Jim Tavaré is slowly recovering from the car accident that sent him to ICU for two weeks, and last week he got a dose of love from his pooch.