Issue #1195 Feb. 6, 2018
Publisher: Joan Stewart
"Tips, Tricks and Tools for Free Publicity"
In This Issue
Journalists' Trick Questions
Is Your Captcha Box Working?
High Ebook Prices Derail Publicity
Hound Video of the Week
This Week in the Hound House:

I try to watch my intake of cheese, especially since I live in Wisconsin where the price is right and I have hundreds of varieties at my fingertips. But I can't resist Sartori's MontAmore, and I'm stocking up on it this week. It's a sweet, creamy, fruity gourmet cheddar that even tastes a little nutty. My family begs me to bring it to Ohio when I visit. Consider it as a great Valentine's Day gift or to enjoy with your sweetie. Order online here.
1. Journalists' Trick Questions

Almost every episode of the old TV series "Columbo" includes this trick.
At the end of an interview with someone who he suspects committed murder, Lieutenant Columbo closes his notebook, makes small talk and heads for the door.
Just when the perp feels relieved that the interview is over, Columbo turns around and says, "Oh, just one last thing." Then he delivers the killer question or statement that catches the person off guard: "You just said you were at work the day of the murder," Columbo says. "But your boss told me you never showed up."
Journalists do the same thing. I certainly did when I worked as a reporter and wanted to pry information out of a source.
"One last thing" is one of five trick questions journalists might ask. But don't get these types of questions confused with legitimate inquiries that aren't tricks like this one: "What's the biggest mistake you've learned professionally?"
To do: Read the questions that are and aren't tricks in my article "Tricks Journalists Use to Loosen Your Lips." If you don't know how to prepare your key message and talking points, don't wait for an interview request to prepare because you might not have time. Reserve a "Rent My Brain" and let me help you put your best foot forward and not in your mouth. I can help you with media training or any other aspect of publicity or self-promotion. Read more about how to rent my brain. 
#MediaInterviews #MediaTraining
2. Is Your Captcha Box Working?

If you're using a Captcha box on your "Contact Us" page, the code might be out of date. Or your visitors might have to type in those goofy looking numbers and letters before they can contact you. If they think it's too much trouble, they might simply give up and move on.
When I visited a former client's website this morning, I couldn't find an email address and tried using their contact form. The Captcha box said the version on their site was "unsupported."
A much better alternative is Google's reCAPTCHA code which requires users to simply check the box that says "I am not a robot." It also offers greater security.
To do: Tell your webmaster about reCAPTCHA.  Even if you already use it, make sure the code is up to date and it works. Also, insist that your regular email address be visible on every page of your website. Yes, every page. Many people, me included, don't like Contact forms because we wonder if anyone on the other end is reading the emails. Give people the option of emailing you from their email account.
#Captcha #reCAPTCHA
3. High Ebook Prices Derail Publicity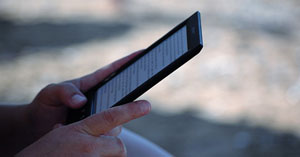 Even the most aggressive, well-executed publicity campaign can't boost ebook sales if your book is priced too high.
Publishing expert Amy Collins says you need look no further than what's happening with the top publishers in the American Association of Publishers, who are seeing fewer ebook sales.
"Steven King's ebook, IT, is $11.99 vs. a $12.73 paperback," Amy writes. "A $.74 cent difference! No wonder the big publishing houses are seeing a drop in ebook sales! There are no print or distribution costs for ebooks. Raising the prices to such heights is their right, but it is driving ebook readers to books and authors that price their books at a more reasonable level."
The sweet spot is $3.99 to $4.99, according to Mark Coker, founder of Smashwords, one of the leading ebook publishing and distribution platform for hundreds of small, professional independent publishers.
To do: Read more about ebook pricing and how Amy's author client saw a spike in ebook sales with lower pricing. She explains it all in her article "Book Promotion: Do This, Not That." 
#Ebooks #EbookPricing
4. Hound Video of the Week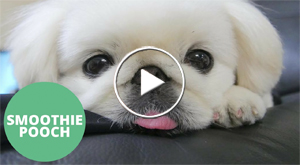 Konatsu, a fluffy white Pekingese, loves her smoothies. And that super-long tongue comes in handy!