Issue #973 Dec. 1, 2015
Publisher: Joan Stewart
"Tips, Tricks and Tools for Free Publicity"
In This Issue
Job #1 for 2016
Solo PR Compensation Survey
For Seriously Successful Authors
Hound Video of the Week
This Week in the Hound House:

Several months ago, when my niece was pregnant with twin girls, she said the babies were "as big as sweet potatoes." So that's what I started calling them: my sweet potatoes. This week, I've shortened it. They're now Great Aunt Joan's "Tater Tots."
1. Job #1 for 2016
Name your three most profitable tools for promoting your business.
If email is on the list, good for you! If it isn't, you're leaving hundreds and possibly thousands of dollars on the table.
Many small business owners, especially authors, dislike email because "I don't know what to say that isn't already in my book" and because "I don't want to be lumped in with all those spammers."   
Spammers buy email lists (a no-no) and send obnoxious, off-topic pitches for products and services you don't need.
You, on the other hand, can build a relationship with your readers by sending helpful tips tied to your topic. Share personal details about your life, like the titles of three books you'd like to find in your stocking this year.
You can also ask your readers for help when you need it. If they love your tips, they'll be honored you asked them for advice. Make email marketing Job #1 next year.
You'll be reading more about how to market with email in the months ahead. For ideas on other content readers love, grab my free cheat sheet on "10 Profitable Ways to Use Email to Create SuperFans Who Help You Sell Books."
2. Solo PR Compensation Survey
Nine out of 10 solo PR pros like their jobs.
The one factor that's most responsible for that is, not surprisingly, how much money they make.
That was one of the findings in the 2015 Solo PR Pro Compensation Survey. Self-employed communications consultants need to be aware of how much other consultants are charging and factors that influence compensation.
Find out how your rates and attitudes compare to those of your peers. Read the entire report here.
3.  For Seriously Successful Authors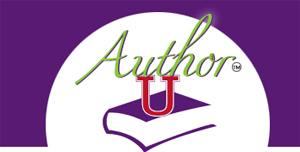 Any author who's serious about publishing should consider a free or paid membership in Author U.
I'm on the Board of Directors for this nonprofit membership community of authors, writers and publishers, and I've never stopped learning from them.  
We ask questions and give answers in the Author U group on LinkedIn. We share book marketing strategies at events like the annual Author U Extravaganza in Denver. And we refer each other to the best resources that help authors publish books with pizzazz, punch and panache.
This week, anyone who joins at the Gold Level for $99 gets three months free, a doggone great deal. Read your membership options and benefits galore here
4. Hound Video of the Week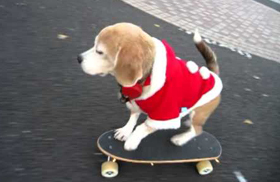 You've seen dogs in Santa costumes. You've seen dogs on skateboards. Here's a dog in a Santa costume riding on a skateboard.