Issue #1191 Jan. 20, 2018
Publisher: Joan Stewart
"Tips, Tricks and Tools for Free Publicity"
In This Issue
How to Survive Facebook's Armageddon
Find Creative Commons Photos Fast
What Rich Authors Do Differently
Hound Video of the Week
This Weekend in the Hound House:

I'm taking off on the 5th annual Publishing at Sea cruise for authors. We set sail out of Port Canaveral tomorrow aboard Royal Caribbean's luxurious "Oasis of the Seas." Last year, I kept a daily journal at my blog. But that commitment kept me up most nights until well after midnight. That was plain nuts. I might blog occasionally. And I promise you'll be reading lots of publishing and promotion tips, things I learn from other faculty members, in the weeks ahead right here. Can't wait to see the hit musical "Cats" aboard the ship. I've already seen it three times on Broadway.
1. How to Survive Facebook's Armageddon

Businesses are scurrying to find ways to survive amid Facebook's newest algorithm change that gives far less weight to posts on Pages and more weight to person-to-person interactions.
Digital marketing expert Larry Kim says that in order to stay alive and continue to connect with your ideal audience, you must take advantage of six loopholes.
Perhaps the biggest is putting more effort into Facebook Groups. If you don't have one, start one. If you're active in someone else's, share better content and engage with more people.
"Going forward, the Facebook News Feed algorithm will prioritize posts based on how much 'meaningful discussion' they inspire," Larry writes. "These are also the exact the types of updates which tend to do fantastically well in Facebook Groups.
"In fact, lively Facebook group discussions can end up getting featured in the user notification tab, which, in turn, can drive an enormous amount of 'free' post visibility."
To do: Read about his five other tips in the article "Facebook News Feed Armageddon Survival Guide: 6 Loopholes to Stay Alive." 
#Facebook #FacebookFeed
2. HuffPost Says Goodbye to Unpaid Bloggers

No more fresh blog posts from the more than 100,000 writers who have contributed to the U.S. version of HuffingtonPost.com, the liberal news outlet.
HuffPost says it's ending its contributor platform, started in May 2005, "because when everyone has a platform, no one can be heard."
Don't believe that for a minute.
I'll bet you twenty bucks the real reason they're doing is because owner Oath Inc. and parent company Verizon are losing money on Huffpo. When you have that many people writing, including lots of low-quality articles, you need an army of paid editors. The easiest way to stem the flow of red ink is to get rid of bodies.
What does this mean for you?
Unpaid bloggers can still write for the Canadian and UK versions.
Huffpost is introducing two new sections for paid contributors: Opinions and Personal. But it sounds like those will be filled with articles written by hot-shot writers and celebrities.
Consider writing for blogs and niche sites that cater to narrow topics in your area of expertise and have loyal audiences.
To do: Read more about the changes, hidden at the bottom of HuffPost's article "Introducing HuffPost Opinion and HuffPost Personal." 
#Huffpo #HuffPost
3. Top 50 Book Marketing Blogs/Websites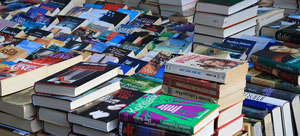 If you're thinking of writing a book, don't wait until it's done to research all the ways you can market it.
Start reading some of the "Top 50 Book Marketing Blogs" chosen by Feedspot. I saw many of my favorite book marketing experts on the list like John Kremer, Sandra Beckwith, Joanna Penn and David Gaughran.
If you read a tip that you think other Publicity Hounds would love, let me know and send me the link and I'll share it here.
To do: Read the entire list of top book marketing blogs.  A year before you launch, rather than plowing through all the ideas yourself, let me help. Reserve a Rent My Brain session and let me help you devise a marketing and publicity strategy that moves more books than you could sell yourself.
#authormarketing #bookmarketing
4. Hound Video of the Week
These smart dogs come exactly when their names are called — and the last dog's reaction is the best.